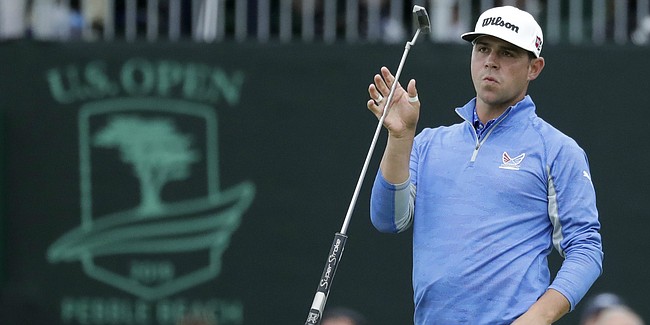 With some of the biggest names and best golfers in the world looming at the U.S. Open, former University of Kansas golf standout Gary Woodland now sits 18 holes away from winning his first major title.
The 35-year-old Woodland maintained his position as the tournament leader by shooting a 2-under-par 69 on Saturday at famed Pebble Beach. At 11-under for the event, he now sits one shot ahead of England's Justin Rose (-10) entering the final round.
Rose, who played with Woodland on Saturday and again will be paired with the leader for Sunday's final round, trimmed Woodland's lead to a single stroke by firing a 3-under-par 68 on Saturday, which included a birdie on the 18th hole.
"One back gives me the freedom to feel like I've got everything to gain, nothing to lose," Rose said Saturday. "I'm not chasing, really, I'm so close to Gary that I have to go out and play my game tomorrow."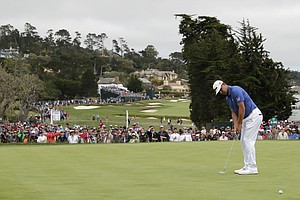 While Rose represents Woodland's most immediate threat heading into Sunday, the former Jayhawk is four strokes clear of the next group of contenders, a trio of golfers sitting at 7-under for the Open.
The most noteworthy name in that group is that of 29-year-old Brooks Koepka, the winner of the past two U.S. Opens and the 2018 and 2019 PGA Championships.
Other former major winners still within striking distance of Woodland are Louis Oosthuizen (-7) and Rory McIlroy (-6).
Dustin Johnson and Tiger Woods, two of the more popular picks to win the Open heading into Thursday's opening round, currently sit at -2 and Even, respectively, and are likely too far back to be a factor at the top on Sunday.
Woodland reached this point by carding just two bogeys in the U.S. Open's first three rounds, a run that included a stretch of 34 consecutive holes of par or better from the final nine holes of Round 1 through the first seven holes of Round 1.
Woodland twice looked as though he were about to lose two shots or more of his lead until chipping in from 35 feet on the par-3 12th hole, and holing a par putt from just over 40 feet on the par-5 14th.
"I'm excited to be where I'm at right now," Woodland said.
His second-round 65 tied for the best single-round, Open score ever at Pebble Beach and his week has been marked by a steady performance all over the course.
He currently ranks eighth at the Open in driving distance (309 yards per drive), is first in scramble rating (88.24%), tied for fourth in greens in regulation (68.52%) and leads the tournament in most pars (39) and fewest bogeys (2).
A three-time winner on the PGA Tour, Woodland, who graduated from KU in 2007 and turned pro the same year, is searching for his first career triumph at one of golf's four majors.
The Topeka native whose best finish at a major to date was a sixth-place showing at the PGA Championship in 2018, finished tied for 8th at this year's PGA a month ago and tied for 32nd at The Masters in April.
Woodland, who is vying to become the first former KU golfer to win a major, will begin his final round at 4:30 p.m. Sunday. Complete coverage will be available on FOX and the FoxSports App.
The Associated Press contributed to this report.