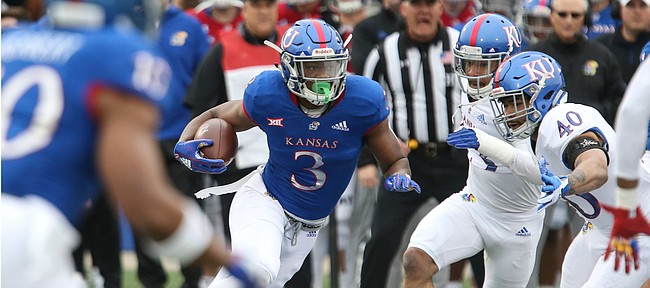 Not long after Emmett Jones was named the new receivers coach for the Kansas football team, he sat down to watch some film on Evan Fairs.
Jones didn't turn on film from his KU career, even though Fairs has recorded 27 total catches in three seasons. Jones popped in highlights from Fairs' high school days, when he played for Foster High in Fulshear, Texas.
When the two sat down for their one-on-one conversation in the offseason, Jones had a simple piece of advice for his 6-foot-3, 210-pound receiver.
"He just expects me to be big and to be physical," Fairs said. "I'm a big receiver, he's expecting me to play big. He told me not to play small, and to go up and get the big balls."
The suggestion could be the key to unlocking Fairs' full potential. Regardless, the redshirt junior is determined to bounce back from a 2018 campaign that went awry.
Fairs added weight last offseason in the hopes of becoming a more complete receiver. Fairs caught one pass for eight yards in the season opener against Nicholls and then notched a 20-yard reception against Baylor.
During the first half of the Baylor game, however, Fairs tweaked his knee. He finished the game, but faced a decision when he was told the injury would sideline him for two weeks. Since it was after the fourth game of the season, and a new rule change allowed players to compete in four games without losing a year of eligibility, Fairs had the option to redshirt.
It was a decision made by him after talking to his family. But electing to redshirt came with a stipulation, so that Fairs could make the most of a bad situation.
"I told them during practice that I didn't want to just be sitting on the sideline, getting reps with the scouts," Fairs said. "I want to be working, and perfecting my craft for next year."
That is exactly what he did, and the coaching staff took notice during a 3-9 campaign.
"They definitely pointed it out a lot in meetings," Fairs said. "They saw me going hard, and they made me as an example. Just because I was hurt, doesn't mean I was just out there chilling. I really pride myself on that, and I just want to keep working."
In a lot of ways, it was like Fairs got a year back. He was thrust into action halfway through his freshman year, in which he caught one pass. Fairs then responded with a 24-catch season as a sophomore, recording 335 yards and a touchdown as well.
This offseason, Fairs has been working on improving his route running. In particular, he is focused on his hips to help him get in and out of routes more quickly. It was something Fairs noticed during drills early in the spring.
Fairs has been going in the training room before and after lifting weights on a daily basis to improve his flexibility. It may seem like a minor area of improvement, but it could be the difference in helping Fairs have a productive season this fall.
"As a receiver, getting in and out of routes is all about the hips," Fairs said. "When your hips are tight, you can't really open up your hips and get in and out of your routes. When you get more flexible like that, then your hips will open up. Then you can easily change direction."