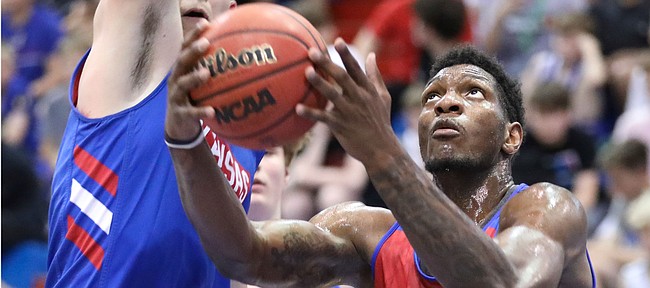 There was no official box score and no designated stat keeper, but in the case of Kansas junior Silvio De Sousa neither was needed.
Tuesday marked the first of two annual Bill Self Basketball Camp games, and De Sousa, now 19 days removed from being declared eligible for the 2019-20 season by the NCAA, was out on the floor in front of a couple hundred campers ready and willing to put on a show.
De Sousa's Crimson team fell to the Blue squad, 80-75, but the 6-foot-9 forward from Angola used his energy, athleticism and explosiveness to finish in transition and outwork people around the rim throughout the first-one-to-80-wins contest.
Midway through the game, however, there was a moment when the whistle blew and the action had stopped that caught the attention of former Jayhawk Elijah Johnson, one of two KU alums (Travis Releford was the other) playing in Tuesday's camp scrimmage.
"Silvio showed me something in this little scrimmage and I just have so much respect for him and love him," Johnson told the Journal-World after scoring eight points while spending most of his time trying to get the younger Jayhawks shots. "He wouldn't get off the court. They wanted to sub him and he wouldn't get off the court. I think that's so cool. That's so cool. He wanted to play, man."
Photo Gallery
KU basketball scrimmage at Bill Self camp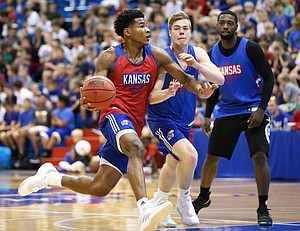 Current and former KU players scrimmage before the campers during Bill Self's basketball camp on Tuesday at Allen Fieldhouse.
And play he did.
Running up and down the Allen Fieldhouse court for every second of live action, De Sousa finished with 11 points on 5-of-8 shooting, including an 0-for-2 effort from behind the 3-point line. Three of De Sousa's buckets were dunks, including one in transition after an off-the-glass pass from junior teammates Marcus Garrett.
The forward who missed all of last season while awaiting word on his eligibility also hit the glass hard and used his physicality all over the floor.
De Sousa was joined on the Crimson team by Garrett, Udoka Azubuike, Ochai Agbaji, Chris Teahan, Tristan Enaruna, Elijah Elliott and Releford.
The Blue team, which was led by sophomore point guard Devon Dotson's game-high 19 points, included Mitch Lightfoot, David McCormack, Mackey McBride, Chrstian Braun, Michael Jankovich and Johnson.
Twelve of the 15 players in the scrimmage scored 8 points or more and eight reached double figures.
Asked if he learned much about the new-look Jayhawks from the 30-minute scrimmage, sophomore scorer Agbaji, who tallied 17 points, shrugged.
"Not really. Not right now," he said. "Some of the guys really haven't learned how our offense works and all that. So it's kind of us just going out there playing. But I think having those experiences and little pointers for the freshmen here and there and some of the older guys, too, is always good."
Enaruna, who Tuesday flashed his length, athleticism and versatility to the tune of 14 points, including a stretch of six straight that was capped by a wicked windmill jam, agreed and said just getting a chance to run up and down in front of a live audience in his new home gym was a wonderful experience.
"It was fun," the freshman from Netherlands said. "I mean, I always want to win, but throughout the game it kind of turned into, 'It's time to put up a show for the kids.'"
Asked if his tendency to hang close to the rim, fighting for tips, touches and putbacks was indicative of his all-around game, Enaruna smiled and said, "That's what you guys will see. A lot of versatility."
Enaruna, Braun and McBride on Tuesday combined for 35 points on 15-of-32 shooting while clearly showing they can run with the KU returners.
Tuesday's scrimmage ended on, of all things, a free throw by Dotson that pushed the Blue team to 80. The finish line was the only thing that kept Dotson from reaching 20 points after he hit 4-of-9 from 3-point range and knocked down his first two triples and last two triples of the day.
"And one," Dotson yelled as he drove to the rim and got fouled. "Game time. Game time."
Before stepping up to hit the free throw, Dotson looked toward the campers and waved his arms, asking them to get loud for what he knew would be the game-winning basket.
"A lot's happened in the past two months," Agbaji said. "And to see the guys we have out there and how loaded we are and the freshmen coming in, I'm real excited about it."
Blue 80
Devon Dotson 19, Mitch Lightfoot 15, Christian Braun 13, David McCormack 12, Issac McBride 8, Elijah Johnson 8, Michael Jankovich 3, Team FTs 2.
Crimson 75
Ochai Agbaji 17*, Udoka Azubuike 14, Tristan Enaruna 14, Silvio De Sousa 11, Marcus Garrett 9, Travis Releford 9, Chris Teahan 3, Elijah Elliott 0.
*Agbaji was not credited on the scoreboard for a basket on a goal-tending call on a shot in the paint.