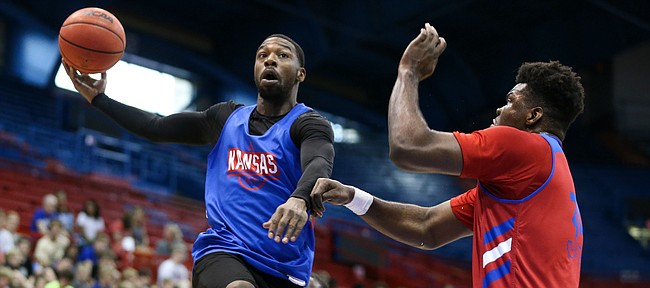 It was the perfect time to participate in a Kansas basketball summer camp scrimmage.
Just hours after The Basketball Tournament bracket was released, Elijah Johnson and Travis Releford were the only two former KU players to compete in a scrimmage with the current crop of Jayhawks Tuesday afternoon at Allen Fieldhouse.
Both Johnson and Releford are two members of Self Made, an all-Kansas alumni team, which received the third seed in the Wichita region of The Basketball Tournament. And that's exactly why the two former Kansas standouts meant business during the made-for-campers exhibition contest.
"I'm trying to get my reps, I'm not just out here to be out here," Johnson told the Journal-World after the scrimmage. "I'm getting ready to win this money. I told Travis, 'Wake up. If anybody is going to let us know about where we are standing, it is these guys.'"
Johnson, the general manager of Self Made, scored eight points for the Blue team in the 80-75 win over the Red team. Johnson hit a pair of 3-pointers, shooting 3-of-9 from the floor. Releford produced nine points on a 4-for-9 effort for the Red team.
More members of the Self Made roster are expected to compete in the second scrimmage next week. Later in the summer, Johnson expects to the entire team of Tyshawn Taylor, Mario Little, Darrell Arthur, Kevin Young, Perry Ellis, Landen Lucas, Darnell Jackson, Jeremy Case, Releford and himself to start training on a more regular basis.
Photo Gallery
KU basketball scrimmage at Bill Self camp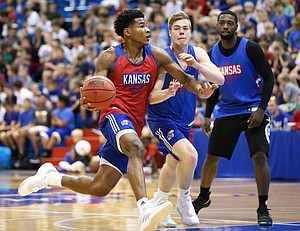 Current and former KU players scrimmage before the campers during Bill Self's basketball camp on Tuesday at Allen Fieldhouse.
Self Made will begin its quest for the winner-takes-all prize of $2 million on July 25. Self Made's opening-round matchup will be against Sideline Cancer at 6 p.m. at Wichita State's Koch Arena.
"I just can't wait until we get back to start doing a little bit of training camp," Johnson said. "I've been doing it a little bit with Travis and Jeremy Case the last few days. That has been fun, just having that feeling of people on the same page as you."
Despite being a No. 3 seed, Self Made is listed as the No. 9 overall squad out of the 64-team single-elimination tournament.
This year marks the sixth such tournament, and Self Made is one of three teams in the Wichita Region that does not have a win in the TBT along with Aftershocks and Iowa United. With a win, Self Made would play the winner of those two teams in the second round.
Aftershocks is a Wichita State alumni team, which includes Conner Frankamp, and is listed as the second seed in the region. Purple & Black, a Kansas State alumni team, is the No. 5 seed in that region as well.
"I had a feeling it would look like that," Johnson said. "I'm excited about it. It is going to be fun."
Golden Eagles (Marquette alumni) is the No. 1 overall seed in the Wichita region along with a region-best 10 TBT wins. They will face No. 8 seed Fort Hood Wounded Warriors in the first round. Purple & Black will take on Team Colorado in the first round.
The winner of the regional bracket will be one of eight teams to advance to Chicago.
"I think we can win it," Johnson said. "I think we can do what we normally do and I don't see anybody that really can take us out of our comfort zone. I think we have a good chance."