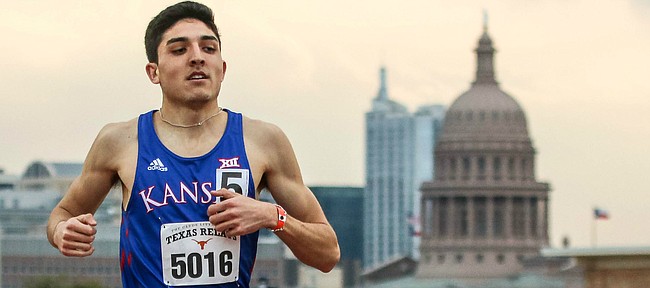 University of Kansas runner Bryce Hoppel headed to Austin, Texas, on Monday fixed on capping his incredible junior season in the only fashion that seemed suitable, by winning the 800-meter dash yet again so he could return to Lawrence with another national championship.
Friday night at Mike A. Myers Stadium, Hoppel achieved his goal, while also maintaining his season-long unbeaten mark in individual races.
Two days after setting a new personal record on the same University of Texas track in the semifinals, Hoppel topped that time and solidified his spot as the country's top 800 runner, finishing his spring season undefeated in the event and winning a national title at the NCAA Outdoor Track and Field Championships.
The crowning achievement of his outdoor season, after also winning a national championship in the 800 at the NCAA indoor finals, Hoppel won an individual race for the 19th time in a row.
The Jayhawks' standout runner all spring, Hoppel won the 800 for the 10th time since late March, completing the championship race with the best time of his entire track career to date, 1:44.41.
Hoppel pushed out in front on the final turn of the race and easily beat out Texas A & M's Devin Dixon, a competitor he has seen often this spring.
He pointed one finger on each hand upward after completing the feat, squatted down momentarily to gather himself, and rose up grinning as a champion.
"That was kind of the plan going in, just stay on Dixon and let him do the work up front. Coming on the end," Hoppel said during his postrace interview with ESPN, which aired the event live, "he opened up on the inside and gave me an opportunity to go pass him even quicker. It was amazing."
A winner in his semifinal heat on Wednesday at the NCAA championships, Hoppel set what proved to be a shortlived personal record for himself in that outing, crossing the finish line in 1:45.26.
A junior from Midland, Texas, Hoppel repeated as a first team outdoor All-American in the 800. He did so at the same venue where he won a Texas high school state title in 2016.
"It feels amazing. I get to have a lot of my family and friends here," Hoppel said on ESPN. "That's what it's really all about. Running for them and running for the team is why I do it all. That's just an amazing experience to be back home."
As a sophomore, he finished fourth at the national championships, with a time of 1:46.67.
The Kansas men's team totaled 21 points to place 14th in the team standings, which was the highest finish by the KU men's program since an 11th-place finish in 2017. Hoppel's title gave the Jayhawks 10 points, and junior Gleb Dudarev added eight to the team total with a second-place finish in the hammer throw on Wednesday, while freshman Zach Bradford added three points with a sixth-place finish in the pole vault on Wednesday as well.
Along with Hoppel's title on Friday, freshman Treyvon Ferguson posted a 10th-place finish in the triple jump to earn Second Team All-America honors. Ferguson notched a personal-best mark of 16.18 meters (53-1 ft.) to become the No. 5 performer in the event in Kansas men's history.