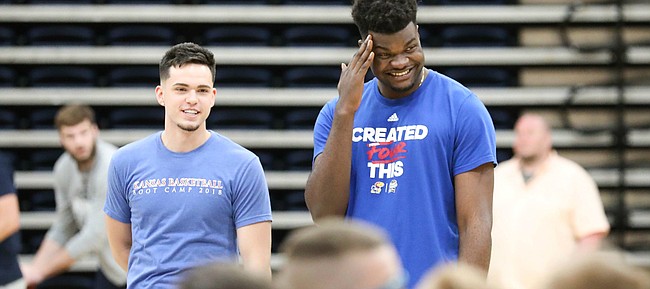 Topeka – A little more than a month removed from his decision to return to Kansas for his senior season, KU center Udoka Azubuike has one priority standing out above all others.
"Just focus on recovering," Azubuike said this week after working Brett Ballard's Washburn basketball camp. "I'm still not 100 percent yet. Like, I need to get back in shape and get back to full fitness and start working on my game to get better."
All of those things appear to be connected and Azubuike is just days removed from being cleared to return to full basketball action after the second significant wrist injury of his Kansas career put him on the sideline for the past several months.
Photo Gallery
KU basketball players at Washburn camp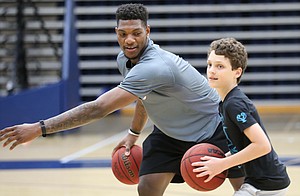 Throughout the first week of June, Kansas basketball players drove over to Topeka to help out with Washburn University head coach Brett Ballard's basketball camp.
Speaking publicly for the first time since deciding to return to school, Azubuike summed up his mindset in two words.
"It's exciting," he said. "Just coming back, recovering from injury."
While those types of things — rest, rehab and recovery — have become somewhat common for the 7-foot center from Nigeria who has battled injuries throughout his time at Kansas, his status at the top of the roster totem pole is taking some getting used to.
"It is weird," Azubuike said of entering his senior season. "It just was yesterday that I was a freshman and now I'm a senior and I'm just looking forward to the challenges and the opportunities coming forward."
There is, of course, the chance that Azubuike could apply for and receive an additional year of eligibility after the 2019-20 season because of the injuries that cost him all but 11 games of his freshman season and 27 of 36 games a season ago. But no one, including Azubuike, is thinking that way entering what could be his final summer at Kansas.
Instead, the idea is for Azubuike to return to 100 percent and impact games the way he has shown he can, which, if he's successful, quickly would put him back on the NBA radar and open up opportunities after college basketball.
To that end, Azubuike spent a lot of the past several months doing whatever he could to stay in the best shape possible for his return. That included riding a stationary bike while his teammates practiced and running sprints on the sideline and stairs in the bleachers, as well.
"It was really important for me," Azubuike said of staying on top of his conditioning. "I just need to get back in shape and running during that time really helped me. Coming back, hopefully that's going to help me get better."
Already known as one of the toughest individual matchups in college basketball, Azubuike, if everything comes together, has the potential to rack up some meaningful accolades during the 2019-20 season.
In an interview with the Journal-World back in April, ESPN broadcaster Fran Fraschilla said that, if he stays healthy, Azubuike "automatically becomes the leading candidate for player of the year in the Big 12."
Beyond that, NCAA.com reporter Andy Katz called Azubuike's return the second most significant headline in college basketball since the 2019 Final Four. Katz also put Azubuike at the top of his list for contenders to win the Kareem Abdul-Jabbar Award, given annually to college basketball's best center.
"If it happens then yeah, I'm glad to be selected or whatever it is," Azubuike said of Big 12 player of the year honors and national All-American recognition. "That's a great opportunity and (I'd be proud to) be recognized for that. If it happens, it happens. But right now I'm just focused on the team, focused on myself getting better and getting in the best possible shape and doing the right stuff to put the team in position to be successful."