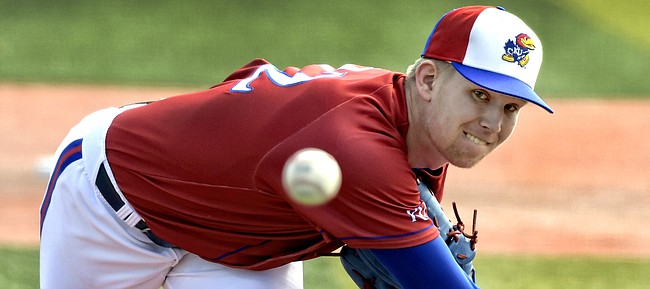 Three years ago, the first time Kansas catcher Jaxx Groshans caught hard-throwing freshman righty Ryan Zeferjahn, he was more than a little apprehensive and made sure to identify a good place to duck and cover.
"Zef was the one kid I hated to catch in bullpens," Groshans recalled recently, sharing the story of watching the KU ace drill a batting dummy in the head with the very first pitch he saw him throw. "I kind of just like ducked and covered, hope to God it doesn't ricochet and hit me."
Today, after hearing their names called in the 2019 Major League Baseball draft on Tuesday afternoon, the two will begin their pro careers together as members of the Boston Red Sox organization.
Zeferjahn on Tuesday was picked by Boston with the last pick in the third round. An hour or so later, he saw his good friend picked by the Red Sox with the final pick of the fifth round.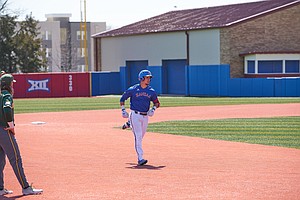 "Getting drafted is always a kid's dream growing up, and today was the day it became real," Zeferjahn told the Journal-World a couple of hours after being selected. "It's kind of surreal to feel that it's time to start my career with the Boston Red Sox, and to be able to be teammates with Jaxx again is cool. He caught me for three years and to move forward with him is a cool opportunity."
According to MLB.com's draft tracker, the two Jayhawks draft value is worth more than three-quarters of a million dollars. There is, of course, more where that came from, provided the two continue to perform and impress along the way. But being selected in the third and fifth rounds already puts them in rarefied air in the Kansas baseball program.
The two battery mates become the 10th and 11th players in the Ritch Price era to be drafted in the top 10 rounds. They also are the 31st and 32nd Jayhawks all-time to hold that distinction.
While Groshans came from out of state to find his collegiate success, Zeferjahn did so just 20 minutes away, coming from Topeka, despite hearing from all kinds of people that he might be making a mistake.
A self-described "late bloomer," Zeferjahn, who grew up hoping to one day play basketball at KU, said he heard questions about his decision to stay close to home every step of the way.
"Yeah, people were like, 'Why are you going to Kansas? They're not that successful,'" Zeferjahn recalled. "But I wanted to change KU baseball. I wanted to come in and make a big impact. They're going to see you. I didn't have to go somewhere big to get seen. And being able to come out of here not only as a Kansas college player, but as a kid who's from Topeka, it's kind of cool."
That's one word for it. Price, who called Zeferjahn one of the two best prospects he has recruited since coming to Kansas, had several more.
"He could've played at LSU or any place in the country," Price said. "And it's been an honor and a privilege to coach him. He's going to be a big leaguer and he's going to have a long career."
While the news of his in-state star being picked in the third round sent chills up and down his spine and fixed a permanent smile on his face, Price said the impact of Zeferjahn going so high in the draft was one that could pay dividends with the Kansas program for years to come.
"If a guy like Ryan Zeferjahn can make it and pitch 10 years in the big leagues, that'll allow the next kid from the Kansas City metropolitan area to say, 'Hey, I can go to KU and I can be a second or third round pick, too.'"