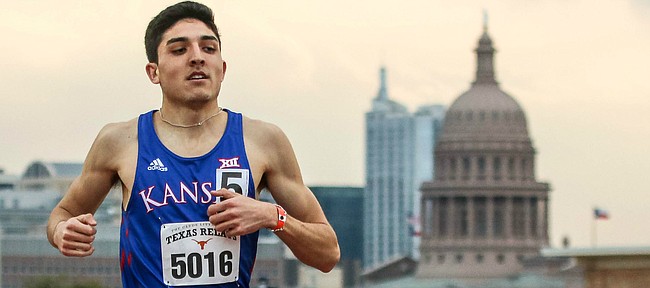 Habitually victorious on the track, particularly in his signature event, the 800-meter dash, University of Kansas junior runner Bryce Hoppel hasn't finished a prelim or final in any place but first in each of his previous 17 tries.
And though Hoppel already owns one NCAA championship, in the indoor 800 this past March, adding another this week at the NCAA outdoor championships in Austin, Texas, would feel like a completely new achievement for the seemingly unbeatable Jayhawk.
"It would be amazing," Hoppel told the Journal-World, while discussing the possibility of capping his junior year by solidifying his spot as the nation's top runner in the 800. "Indoor was great, but I think the outdoor season is the pinnacle of track and field. I think it would be even more special to get that, let alone get the repeat."
A native of Midland, Texas, Hoppel's remarkable stretch of victories, 14 of the 17 came in the 800, began during the indoor season. Heading into the outdoor portion of the schedule, he primarily wanted to keep improving, but also envisioned chasing another national title, based on the course he had set for himself through all of his recent success.
The streak itself didn't even really register for Hoppel until someone brought up after his indoor national title that he hadn't lost in the 800.
"Ever since then I've been trying to keep it rolling," Hoppel said. "It's not my main focus, but definitely something that's coming along with competing."
Eight of Hoppel's 10 first-place finishes in the spring came in the 800, most recently at the NCAA West Prelims, in Sacramento, Calif. As he heads into nationals, beginning with Wednesday prelims at Mike A. Myers Stadium at the University of Texas, one 800 runner in particular from those West Prelims still has his attention: Texas A&M;'s Devin Dixon.
"I barely edged him out at the line to keep the streak going," Hoppel said of his most recent victory.
"I think just running along with (Dixon), we definitely can set some fast times," Hoppel added of the runner he will face again in his heat of the prelims, and very well could race yet another time with a national title on the line. "But I've never been one to focus on that. Just more getting out there and running to my completion and doing the best that I can. But the field is definitely looking quick."
For Hoppel, the goal all spring has been to win the 800 in Austin, Texas, this week. Now he's closer than ever, and riding a serious wave of momentum.
"It doesn't feel real when you get to that level and actually accomplish those things," he said of possibly adding a second national championship to his resume. "It's kind of hard to grasp the feeling and kind of just ride with it. It's definitely nothing short of amazing."
More Jayhawks at NCAA championships
Hoppel won't be a lone Jayhawk in Austin, Texas. The KU men's team also qualified pole vaulter Zach Bradford, triple jumper Treyvon Ferguson and hammer thrower Gleb Dudarev for the outdoor championships.
KU's women's track and field team, meanwhile, will compete in two events. Thrower Alexandra Emilianov qualified in discus. On the track, the Jayhawks will run in the 4x400 relay. KU's possible runners for that event are Chloe Akin-Otiko, Jedah Caldwell, Marleena Eubanks, Honour Finley, Mariah Kuykendoll and Nicole Montgomery.