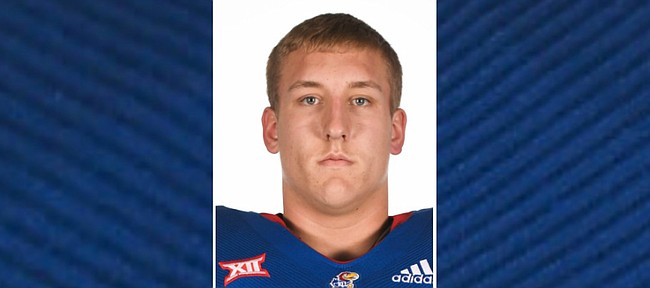 While much of his focus for the past few months turned Mason Fairchild's attention toward his track and field exploits, culminating with his top-three finishes in Class 4A in both the shot put and javelin at the state meet, Fairchild never went long without thinking about what was to come in June.
"I'm really excited to get this next chapter in my life going," Fairchild said during a recent interview with the Journal-World about officially joining the Kansas football program.
The 6-foot-5, 250-pound tight end from Andale checked in at KU with other incoming freshmen football players and moved in to his new apartment on Sunday.
The itinerary he and other newcomers, such as his roommates Steven Parker and Dajon Terry, received ahead of time outlined their first two days in Lawrence.
"It's a lot of just unloading, getting to know all the staff, physicals and all of that stuff," Fairchild shared. "And after that, that's when workouts and classes start up."
When summer strength and conditioning sessions commence this week, Fairchild, rated a two-star prospect by Rivals, thinks he should be as ready as an incoming freshman can be for that sort of intensity. KU football's strength and conditioning coach, Zac Woodfin, sent Fairchild a list of workouts he could do back home in Andale while he wrapped up his time as a high schooler, and the new college freshman put them to use throughout his track season.
Before long, Fairchild and other young Jayhawks will be working and playing alongside college football veterans. Fairchild said he is looking forward to seeing several of them perform in person, including quarterback Thomas MacVittie and defensive backs Mike Lee and Corione Harris.
"I've heard a lot about them," Fairchild said, "and I'm excited to see how good they are."
He'll get his first chance to do so when players start their seven-on-seven work, a staple of the summer schedule but one that is player driven and doesn't involve coaches. Fairchild said those moments should help him get to know and bond with his new teammates better.
But he also expects to be tested.
"I've heard that it's really intense," Fairchild said of the workouts that will lead up to preseason camp in August. "And it's going to keep me on my toes. It's going to be pretty tough. But you've got to do hard things."
Over the past several months, Fairchild estimated he visited Lawrence three or four times. And on those occasions his conversations with head coach Les Miles and tight ends coach Jeff Hecklinski hammered home the point that he needed to be ready to "get after it" from the moment he arrived at KU. So that's what he planned to do all along.
Amid the tough training that awaits him and his fellow freshmen, though, Fairchild thinks the experiences will prove beneficial on and off the field.
"I feel like a couple weeks in, I'll be pretty close with all the guys," he said."