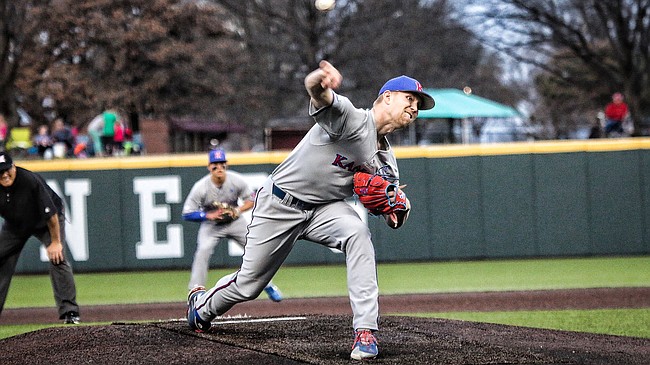 The first two rounds and 78 picks of the 2019 Major League Baseball Draft are slated for Monday night and there's a strong chance that a Jayhawk will be included.
Junior pitcher Ryan Zeferjahn, a Topeka native and the team's ace during the 2019 season, is projected by most draft analysts to be selected in the first two rounds of this year's draft.
If he is, Zeferjahn, a 6-foot-5, hard-throwing, right-handed starting pitcher, has a shot at becoming the highest-picked player in Kansas baseball history and almost certainly will land somewhere in the program's top five on that list.
He also will become the 10th player in the Ritch Price era to be picked in the Top 10 rounds and the 31st player in KU baseball history to be selected in the draft's first 10 rounds.
Former KU lefty Curtis Shaw, drafted in the second round of the 1990 draft (No. 42 overall by Oakland), currently owns the distinction of being KU's highest ever draft pick.
Former Pittsburgh Pirates hurler Tom Gorzelanny, who pitched 12 seasons in the big leagues and won 14 games for Pittsburgh in 2007, was selected with the No. 45 overall pick in the 2003 draft.
Fellow Jayhawk pitcher Jimmy Walker, a member of KU's 1993 College World Series club, was picked No. 91 overall in 1993. And Jackson Goddard, another pitcher, was selected No. 99 overall in Round 3 of last year's draft.
Price, who just completed his 17th season at Kansas, said he knew the minute he first started recruiting Zeferjahn that he would someday find himself in this position.
"There were no doubts," Price said. "Of all the guys that we've recruited, the two best prospects we've recruited since I've been here were Jackson Goddard and Ryan Zeferjahn."
After a slow start to his career during his freshman season, Zeferjahn turned a corner last year and became a dominant force on the mound for the Jayhawks this season.
He finished the year second in the Big 12 in strikeouts, with 107 in 88.1 innings, and recorded a 5-2 record, a 3.97 earned-run average and a 1.18 WHIP.
The three-day MLB draft will run through Wednesday and will Rounds 1 and 2 will be shown live on MLB Network beginning at 6 p.m. tonight.
The draft will continue with Rounds 3-10 on Tuesday and conclude with Rounds 11-40 on Wednesday. All of the Day 2 and Day 3 picks will be streamed live on MLB.com.
In all, when you add in supplemental and competitive balance picks, 1,217 college and high school prospects will be drafted into the big leagues in the next three days.