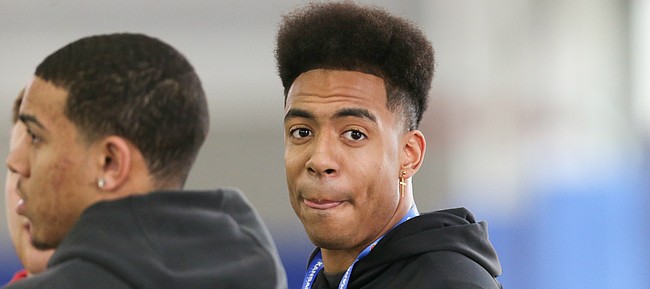 Before Jayden Russell arrived in Lawrence on Sunday to move into his apartment with fellow Kansas football freshmen Gavin Potter, Valerian Agbaw and Kenny Logan, Russell didn't know all of the details of what awaited him and the numerous other newcomers officially joining the program this weekend.
Even so, Russell was sure of one thing.
"I just know we've got to get to work," Russell said during a recent interview with the Journal-World of the next couple of months leading up to the Jayhawks' preseason camp. "I don't know what we do or how much we do or things like that. But we're going to hit the ground running."
A 6-foot-3, 190-pound defensive back who helped lead St. Thomas Aquinas to a Class 5A state championship as a senior, Russell didn't enter his first week as a college student blindly, though.
Russell also knew Sunday would include a "whole bunch" of medical examinations, measurements and the like for the newest Jayhawks — "five or six hours" worth of those types of necessary orientation items were on the agenda, he estimated.
From there, based on what he had heard from KU football coaches and staffers, players would fully move their belongings into their new living spaces and then meet up for a family dinner. Russell also said the new arrivals would have meetings at KU's facility before summer classes and workouts begin on Tuesday.
Of course, the man in charge of the program, Les Miles, knew before all of his newest players got to town exactly what he would be telling them.
"The speech is: you're joining a community," Miles shared on Saturday. "It's an athletic community. It's a community of the town of Lawrence. And what we're expecting you to do is to adhere to our culture, make sure that they'll do the things in the weight room and on the football field that we want them to do, but also off the field be good students and be part of the community. Do the things to be responsible in the community eye."
Miles said KU's first preseason practice won't be until Aug. 1. However, newcomers and veterans alike will spend plenty of time between now and then going through strength and conditioning workouts, under the supervision of the team's staff members.
Said Miles: "We're going after it."
Russell projects as a safety as a freshman but based on the conversations he has had with various KU coaches over the past few months, he knows it's possible they could move him to another spot, perhaps cornerback or even outside linebacker.
"Just come in and work," Russell related of his new coaches' message to him. "Just with my body frame and things like that, they just want to see how my body grows."
At 6-3, Russell is the tallest defensive back on KU's entire roster.
"So I'm really excited about that," Russell said. "(The coaches) just want to see me work and see how everything goes."
Before he packed up and moved to Lawrence, Russell also spoke with some KU veterans about what to expect this summer as a freshman. He said he often talks with senior running back Khalil Herbert, who hosted Russell on his recruiting visit this past winter.
"It's a different culture," Russell shared of Herbert's words. "Things are so much different. Once you get in there, be ready to work hard, but also do the right things."
The freshmen coming in, Russell said, need to understand they will be held accountable for their actions. He said the whole program "did a 180" once Miles took over.
"Of course we want to be the best football team, but it starts off the field," Russell said. "You have to work hard off the field. Coach Miles really preaches that and every little detail matters. They just want you to work hard once you get here, and that's what the most of the guys are telling me. It's not going to be easy."
Russell said he has been training the past few months in preparation for not only this summer but the preseason camp that will follow it in August. His workouts came with the help of Johnny Beck, a former KU kicker who now helps athletes train.
"You've got to be mentally ready and also physically ready," Russell said of joining the collegiate ranks. "It's a different environment. Of course it's going to be tough, but once you get acclimated it's just football."