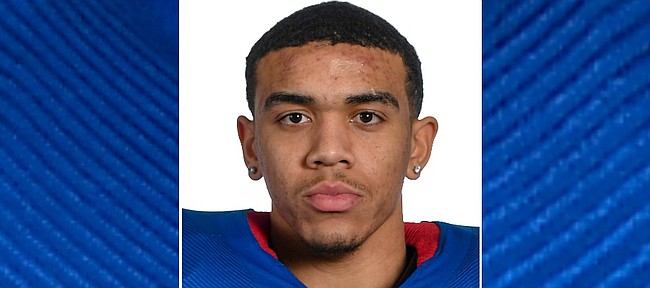 As various incoming freshman members of the Kansas football team arrived on campus this weekend to move in and get initiated before summer classes and strength and conditioning workouts begin this week, Amauri Pesek-Hickson wasn't a part of the group.
The running back from Blue Valley North who signed with KU this past February still plans on joining the Jayhawks. But Pesek-Hickson won't be doing so until the 2020 spring semester.
"That's something I knew way before I even committed," Pesek-Hickson told the Journal-World of taking what is known if football recruiting as a grayshirt.
But the more Pesek-Hickson thought about putting a brief hold on the start of his college football career, the more he saw it as a positive.
Instead of redshirting during the 2019 season, for example, Pesek-Hickson can wait to enroll until 2020 and still have five years (2020-24 seasons) to play four.
Once Pesek-Hickson, a former Michigan commit and a three-star prospect according to Rivals, reopened his recruitment this past winter, most of the coaches with whom he spoke at different programs were unsure about whether there would be an open scholarship spot for the newly available 6-foot, 225-pound running back from Olathe.
The same was true at KU, but Pesek-Hickson said Les Miles presented him with an alternative.
"We want you," Pesek-Hickson related of Miles' pitch, "but you would have to be a grayshirt."
After talking the idea over with his parents, Miles and tight ends coach Jeff Hecklinski, Pesek-Hickson said the idea didn't sound bad at all.
"I've only played football for 13 games," the running back explained.
Also a basketball standout during his time at Blue Valley North, Pesek-Hickson played football in middle school, as well as his freshman year of high school. But when he suffered a broken foot three games into his 9th grade season he stopped playing football.
Eventually he returned to the gridiron, but 2018 was his only full year of playing at the varsity level. Blue Valley North reached the Class 6A state championship game before falling to undefeated Derby, and Pesek-Hickson finished an abbreviated varsity career with 923 rushing yards, 812 receiving yards and 22 total touchdowns.
Still, he said he doesn't mind spending 2019 as an observer from afar.
"It gives me a whole other fall to just get my body right and everything," Pesek-Hickson said.
Had KU given him the opportunity to enroll and compete this year, it may have proven difficult for Pesek-Hickson to make an immediate impact. Running back appears to be a deep position for the Jayhawks, with senior Khalil Herbert and junior Dom Williams returning.
Plus, although his exact status for this season is not yet officially known, the program's 2018 star, Pooka Williams, is still on the roster. Miles suspended Pooka Williams from all team-related activities this past December, after KU police arrested the running back from Louisiana and he was charged with domestic battery. Pooka Williams agreed to a domestic violence diversion in late March. But he didn't practice with KU in the spring and neither the football team nor the athletic department has stated publicly when or if Pooka Williams will be reinstated and cleared to play.
All of that aside, Pesek-Hickson said the idea of an easier path to playing time existing in 2020 wasn't a selling point for him.
"I'm going to work regardless, whether I'm coming in the summer or coming next year," the confident running back said. "I feel like I would've touched the field a little bit if I came this year. But as far as me being that guy that I want to be, I don't think that would happen my freshman year. It would be happening next year with me coming in. Just because I'll have that whole spring and I'll have fall camp to really solidify my name."
Although he won't be joining the program as soon as other members of KU's 2019 signing class, Pesek-Hickson doesn't see that as any kind of negative or snub. Once Miles informed him that the scholarship situation the coach inherited upon taking over at KU meant Miles couldn't bring in as many newcomers for the 2019 season as he would've liked, Pesek-Hickson was glad to go the grayshirt route.
"That's Les Miles," he said. "I'll do anything for Les Miles."
Over the past few months, Pesek-Hickson said he has remained in steady contact with both Miles and Hecklinski, the assistant whom he said was "really big" in his recruitment.
"They just tell me they're excited for me and they can't wait for me to get on campus," Pesek-Hickson said. "I mean, it sucks that I won't be able to showcase what I can do (this fall). But everything happens for a reason."