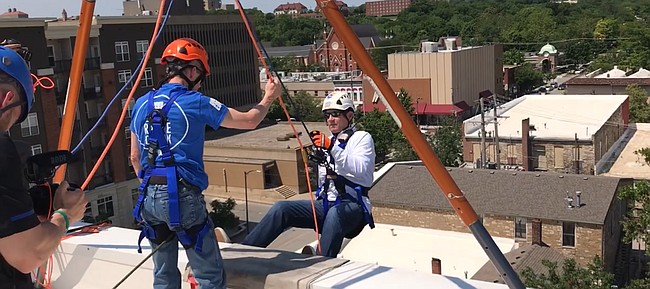 Before Les Miles headed downtown Saturday morning the Kansas football program's head coach presented some of his assistants with a proposition.
"Hey, if you go off the edge first, I'll give you a raise," Miles joked before heading to the rooftop of 888 Lofts, on New Hampshire St., in downtown Lawrence, where he rappelled down the side of the building to help raise money for the Boys & Girls Club of Lawrence.
"Nope. Nope. Not taking it, coach," Miles continued, regarding his joke about some unwilling assistants.
Before Miles, like the dozens of other participants who traveled down the seven story building on Saturday, received instructions on how to use the equipment from the professionals on site working for Over The Edge Global, which helps non-profits raise money through its events, he joked he trained "significantly" for the spectacle.
"This morning at breakfast I had an egg white omelette and basically it was exactly what I needed to go over the edge," the cheerful football coach teased.
Actually, it wasn't Miles' first time rappelling for charity. In 2013, when Miles still coached at LSU, he worked his way down the side of a 24 story building in Baton Rouge, La., in support of an adoption awareness campaign.
Miles said Saturday he and his wife, Kathy, enjoy supporting local charities, such as the Boys & Girls Club of Lawrence.
"We have four children that have health and advantages. And what we're looking for is the opportunity to give those a little less fortunate the same advantages," he said.
People gathered on the closed off portion of New Hampshire St., between 8th and 9th streets, to check out the event, and Miles said he appreciated that some were there to see him and support the cause.
"It's fun. One thing about it, the Jayhawk fanbase, they're loyal and they love athletics," Miles said.
As much as Miles enjoyed the event, he admitted before heading up to the roof that his venture was accompanied by some nerves.
"When you back off the first time," he explained, "no matter what, no matter how good you are, that's the time you figure out: these ropes better be pretty strong."
They were, and it took KU's football coach about 1 minute and 20 seconds to rappel 77 feet down the seven story building, a little before noon, sporting a white helmet with a Jayhawk logo on the front as fans watching on the street below cheered him on.
Locally, First Management served as the event's building sponsor, while Grandstand Glassware + Apparel sponsored the event itself, just as the two businesses did for the Boys & Girls Club of Lawrence in 2018.
As of Saturday, the event already had raised more than $50,0000. Donations still can be made through Monday, online at Over The Edge's website.