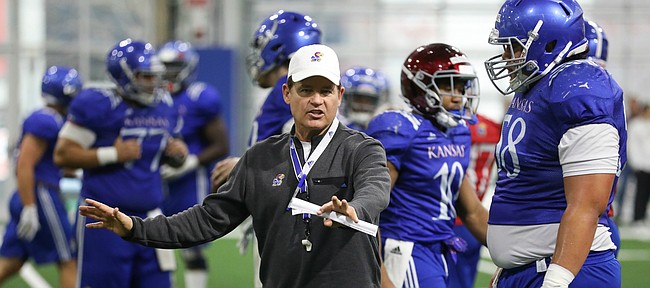 The Kansas football team's veterans feel at this point like they know head coach Les Miles relatively well, after spending eight months around the man who was hired to turn around the program.
That doesn't necessarily mean, though, that they have a strong sense of what awaits them at their first preseason camp with Miles in charge.
"I'm ready for anything," senior running back Khalil Herbert admitted.
The Jayhawks officially report for camp on Thursday, when they check into the team hotel and attend a series of meetings as a type of introduction to the upcoming season and academic year.
Then they get their first taste of practice on Friday. While most of the players on the roster went through spring football with Miles and his coaching staff, the prevailing belief is that August sessions will feel considerably more amped up, with the start of the season now only weeks away.
"I don't know what to expect to be honest," Herbert said. "I tried talking to a couple of my friends back at LSU, but they couldn't really give me too much of a hint about it. So I'm really ready for anything."
As mandated by the NCAA, the Jayhawks will ease into their practices, going Friday and Saturday with little contact and no additional equipment under their jerseys and shorts. Shells will be added for Sunday and Monday practices before they transition to full pads on Wednesday for the fifth practice and beyond.
And, of course, that's when the most grueling work begins.
"I'm just going to go out on a limb and say it will be difficult," senior left tackle Hakeem Adeniji said with a chuckle. "But that's part of it. We're going to get better and it's going to be hard work. But it will be worth it."
In total, KU will practice 19 times between Friday and Aug. 25, before they dive into game week preparation for their Aug. 31 opener against Indiana State at David Booth Kansas Memorial Stadium.
The veterans may not yet know the finer details of what's ahead of them during the next few weeks, but they understand exactly how important it all will be leading up to a new season under a new coaching regime.
Said senior safety Mike Lee: "We're going to get into fall camp. Whoever stands out, that's who's going to play August 31st."