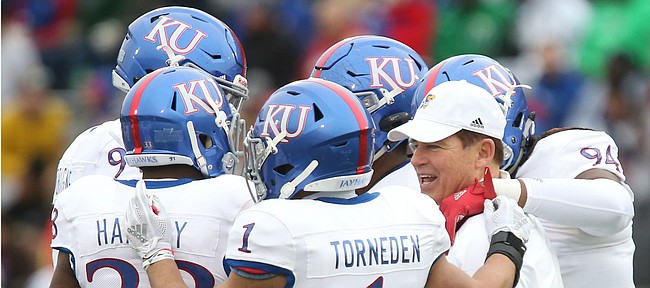 It's true that Les Miles after more than two years away from the college football coaching world is taking on a monumental task in attempting to reinvigorate a long flatlining Kansas football program.
In the eight-plus months since Miles began this endeavor, however, the 65-year-old football coach with an impressive résumé heads into his first season in Lawrence not only confident, but also willing to make his convictions known.
As he did at the conclusion of his new program's spring practice schedule a few months back, Miles reiterated recently his hunch that the first team he'll coach at KU has "a better talent base" than the one he led at Oklahoma State in his debut season as a head coach 18 years ago.
"I think you will see that this Kansas team," Miles said of a program that went 3-9 in 2018 and has won no more than three games in a season since 2009, "is much more talented than their record shows."
In 2001, OSU gave Miles his first head coaching job. The Cowboys finished 4-7 overall and 2-6 in the Big 12. Even so, OSU had talented personnel, with such recognizable names to longtime fans of the conference as Tatum Bell, Rashaun Woods and Josh Fields.
So why, Miles was asked earlier this month at Big 12 Football Media Days, is this KU team better than that OSU team?
Miles began his case by pointing out that the Cowboys got pretty deep into their season before turning to Fields at quarterback.
"The initial quarterback that we put on the field's going be better," Miles predicted of either junior Thomas MacVittie or senior Carter Stanley, compared to OSU's 2001 Week 1 starting QB, Aso Pogi.
"I think wide receivers are going to be in place," Miles added of a position group for KU headlined by a pair of junior college transfers, Andrew Parchment and Ezra Naylor, and a former Alabama wideout, Daylon Charlot.
Miles then conceded that Woods, who caught 80 passes for 1,000-plus yards and 10 touchdowns in 2001 was "pretty good."
Still, Miles contended that KU's veteran offensive line group heads into the preseason "in really good shape," too.
"We've got running backs," Miles went on, referencing sophomore Pooka Williams, senior Khalil Herbert and junior Dom Williams. "I don't know that we had a pair of running backs (at OSU) like we have. So we'll have advantages there."
OSU finished with a losing record in 11 of the 12 seasons before Miles arrived. During his four seasons in charge, the Cowboys went 28-21. Since then, his successor, Mike Gundy, possesses a 121-59 marks at Oklahoma State.
KU appears to be a long way form playing in bowl games every year the way OSU does now. Miles, of course, would like to change that.
"I can tell you it involves effort and energy," Miles replied, when asked how he could take a program associated with losing and disarray and turn it into a winner. "And the one thing I can say is I am not going to coach effort and energy."
Instead, Miles explained, he needs his players to pursue those on their own so he can focus on more critical functions within his job.
"(If) I know they're going to tackle, I know they're going to block and I know that they're going to have effort and energy," he said, "I now can turn to the game plan and calls and make a difference. But we all have to commit first that we play with great effort and energy."
Miles said this group of Jayhawks shares some "similarities" with a "talented" OSU team he coached in 2001. But he openly gave this KU team the edge.
"I think there's more skill at more positions," Miles said of the 2019 Jayhawks. "I think our secondary is going to be good. Our linebackers are going to be fast and long and going to get hands on balls. Our defensive line, it's pretty damn good.
"So I think we're going to have kicking and punting. I think we have good return teams. I just see us being talented," Miles said. "So we'll have to see how talented other clubs are."
If KU were to end up going 4-8 in Miles' first season it would be the best year the program has experienced since Mark Mangino's final season at the helm, in 2009, when the Jayhawks went 5-7.
Miles declined, though, to get into how he will measure success for Kansas this year.
"I will never put a cap on my team, any team that I coach," Miles declared. "If you go to a bowl game, that's certainly a positive step, right? I think if you give yourself that opportunity to continue to improve, you win some very significant games at the back end of the season, you win some difficult games at the back end of the season. And maybe you have the opportunity to play for a championship."
While the coach who heads into the fall with a 142-55 career record emphasized KU will need to have a productive, injury free preseason camp in August, Miles said he and his staff will continue to build a new culture in the weeks and months ahead.
"I'm not going to put a top on it," Miles hammered home of introducing a win total goal ahead of his debut fall at KU.