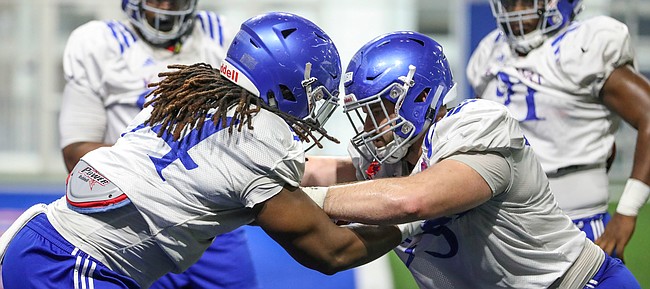 When the Kansas football team makes its debut under head coach Les Miles on Aug. 31, the players who end up starting within the defensive front won't exactly enter the opener with name recognition.
Mostly unproven and inexperienced, KU's defensive line and linebacker groups lost the bulk of their starters from a year ago. The only player returning who started at least six games in 2018 is junior linebacker Kyron Johnson, who appeared in the staring lineup seven times.
The defensive line lost such regulars as star Daniel Wise, Brian Lipscomb, J.J. Holmes and Isi Holani, and the linebackers will now have to function without go-to tackler Joe Dineen.
The Jayhawks' defensive strength should reside in the secondary, with a slew of important veterans still contributing. But how well will the cornerbacks and safeties be able to execute if their teammates up front are too busy adjusting to handle their responsibilities?
An all-Big 12 defender, Wise routinely commanded the attention of multiple offensive linemen. KU simply can't replace that type of impact player as it prepares for its first season under Miles and defensive coordinator D.J. Eliot, who is implementing a 3-4 scheme.
However, senior safety Mike Lee said recently he and other defensive veterans are optimistic about the defensive line, a group that includes seniors Codey Cole III, Darrius Moragne, Willie McCaleb and Jelani Brown, as well as sophomores Jelani Arnold and Malcolm Lee.
"Every day the defensive line gets extra work in," Lee said of the unit's offseason. "They're putting each other on the same page, getting each other better. They know they lost some tough guys. But you've got to be willing to work without them. It's their time to step up."
When KU completed its spring practice schedule, Cole, Brown and Moragne took first-team reps, while McCaleb, junior Sam Burt and Arnold backed them up.
"I'm just ready to see what they're ready to do in the season," Lee said of the D-line, now coached by Kwahn Drake.
Senior safety Bryce Torneden hesitated to praise any individual D-lineman, choosing instead to say all of the returners have shown a lot of progress since the end of this past season.
Although the group lacks much in-game experience at the FBS level, Torneden shared one reason why he thinks the players within it can be productive. When Wise was back in Lawrence a few times between December and July, Torneden said, Wise made sure to work out with his former teammates.
"So I know he's not leading them astray," Torneden offered. "I think just working with him the past two or three years or whatever it may be, they've taken a lot in and they have the drills and they know what it takes to be great at this level."
KU may need a similar situation to play out with its linebackers for that equally green group to make plays. Between the true linebackers and the hybrid linebacker and D-end players, called Hawks in Eliot's scheme, more unknowns exist than answers after KU started two seniors, Dineen and Keith Loneker Jr. at linebacker in 2018.
Late in the spring, senior Azur Kamara started on defense at Hawk, with junior linebackers Drew Harvey and Dru Prox. Senior Hawk Najee Stevens-McKenzie, junior Kyron Johnson and sophomore Cooper Root took on featured reserve roles.
Among that group of six players, Johnson and Kamara are the leading returning tacklers, with 16 stops apiece a year ago.
Even so, Torneden argued the team's linebackers will look more prepared than some may assume.
"I think a lot of people are focusing on the fact that we lose guys like Joe and Keith who have played so many snaps. But I think the takeaway is those guys under them have that experience of learning from two great linebackers who have played a lot of snaps and have been able to soak that in and learn from guys like Joe and Keith," Torneden said. "I think that's good to see. It's not just going to be a falloff. Obviously it's hard to replace guys like those, and it's going to take some time. But I think with the experience and the guys we have on our team they're definitely capable."
KU also could benefit at linebacker from the summer arrival of freshmen Steven Parker and Gavin Potter.
Ahead of preseason camp in August, KU's roster currently lists a dozen linebackers and two Hawks. So the Jayhawks have enough personnel to roll out some combination of four of those players behind three D-linemen. However, the flexibility of Eliot's scheme also could allow one of those four spots behind the linemen to be occupied by a fifth defensive back, a look the Jayhawks showed during late spring practices.
Whatever shape the defensive front takes, Miles didn't sound especially concerned about the talent level of the players who will line up in front of an experienced secondary.
"Our linebackers are going to be fast and long and going to get hands on balls," Miles declared. "Our defensive line, it's pretty damn good."
KU football defensive front
Defensive tackles
Spencer Roe (R-fr.)
Jelani Brown (sr.)
Sam Burt (jr.)
DaJon Terry (fr.)
Malcolm Lee (soph.)
Defensive ends
Jelani Arnold (soph.)
Codey Cole III (sr.)
Darrius Moragne (sr.)
Hawks
Azur Kamara (sr.)
Najee Stevens-McKenzie (sr.)
Linebackers
Steven Parker (fr.)
Kyron Johnson (jr.)
Denzel Feaster (sr.)
Gavin Potter (fr.)
Cody McNerney (R-fr.)
Cooper Root (soph.)
Nate Betts (jr.)
Drew Harvey (jr.)
Nice Channel (R-fr.)
Dru Prox (jr.)
Jay Dineen (soph.)
John Lillig (fr.)