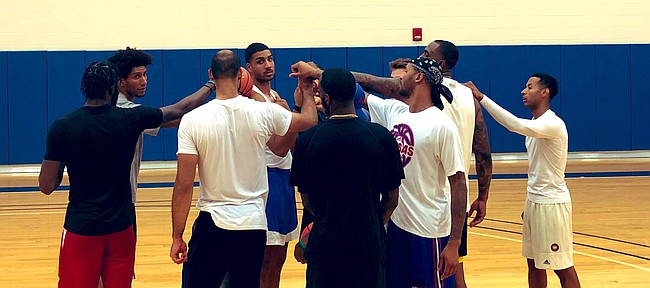 It's hard to know exactly how the Self Made squad will fare in both the TBT tournament as a whole and in Thursday's 6 p.m. opener against Sideline Cancer at Wichita State's Koch Arena.
But the former Jayhawks suiting up in the uniforms that bear their former head coach's last name believe they've got all they need to make a run.
"We've got a little bit of everything," said former KU guard Brady Morningstar, who will be coaching the 11-man TBT roster. "We've got bigs that can guard, we've got guards that can guard. We've got guards that can score, we've got bigs that can score. It's going to be a lot of fun to watch us play. In practice, you can't really tell. But when these guys get up and down, man, it's going to be fun to watch."
After months of putting the roster together, weeks of building anticipation and a four-day training camp back in their old stomping grounds on the KU campus, the former Jayhawks are finally ready to tip it off in the $2 million, winner-take-all tournament that will be shown on ESPN.
Seeded third in the Wichita region, the KU alums need to win three games in the next four days to reach the Elite Eight in Chicago, where the last teams standing will play it out for the top prize.
With a team of former Wichita State players potentially looming in the second round on Saturday, Self Made's road is far more difficult than most early-round games these players experienced during their days at Kansas.
"It's not like we're going to Wichita as the predominant favorite," Self recently told the Journal-World when talking about the team's chances. "But those guys, if they play like they're capable of playing I can certainly see them having some fun and enjoying it."
Former KU guard Tyshawn Taylor is banking on it. And he's not deterred by potentially facing a Wichita State team in the second round on Saturday.
"I've played in front of a couple crowds," Taylor said with a grin. "The TBT crowd will be fun, but... I mean, we played a tough game last year in New York against a Syracuse team and that was like a legit, home-court game. They had a bunch of orange shirts in there. It's fun. It's summer basketball and it's just good to get those competitive runs in."
KU's first-round opponent has experience in the event, but lacks the kind of name-brand, noteworthy talent that the Self Made roster has with Elijah Johnson, Tyshawn Taylor, Darrell Arthur, Perry Ellis, Travis Releford, Kevin Young, Mario Little, Landen Lucas, Jeremy Case and new addition Naadir Tharpe.
Put together by General Manager Billy Clapper, Sideline Cancer's team page on the TBT website boasts the following blurb: "Each year of TBT, the Sideline Cancer basketball team has come together to play. And what we have played for is something bigger. We are playing to raise awareness, to inspire the next generation of what they can use their gifts to be, and we believe always that one day a cure will be found."
Sideline Cancer is ranked by ESPN.com at No. 44 overall in this year's field, compared to the No. 9 ranking handed out to the former Jayhawks.
Although the Self Made cause is not on the same level as raising money and awareness for cancer research, the players representing their old program and Hall of Fame head coach believe their cause is special, as well.
"I think it's good to obviously get back with guys that we haven't seen or don't get to see all the time and it gives us a reason to compete," Taylor said.
Added Self: "I'm very hopeful that it goes well, but there's a lot of guys out there that can really play and take it really serious, so I hope our guys are locked in. There is a carrot out there for them. If you're able to win three games, you'll be one of eight teams that have a shot to play for big money, which can certainly impact all those guys' lives. These are not the NBA guys. These are guys that are just trying to make it."