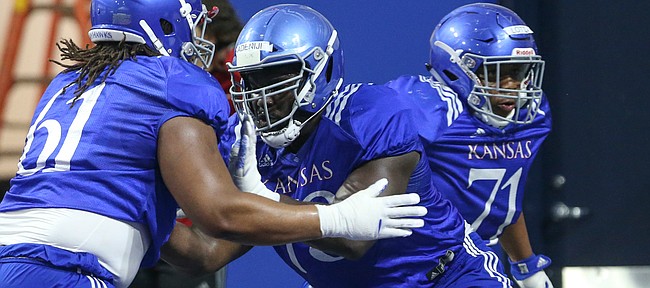 When Les Miles introduced his first signing class at the University of Kansas this past February, the head coach provided some sort of details about every incoming prospect.
Not one of them was an offensive lineman.
That meant when practices began in the spring, there were no transfers or early enrollees to acclimate.
Similarly, KU's first preseason practices in August will involve only experienced offensive linemen, as well. With no scholarship freshmen or junior college signees arriving in the summer, the only O-linemen who will have to learn the ropes will be new walk-ons — and KU's media guide lists just one on the roster, freshman Jack Werner, from Cedar Rapids, Iowa.
As ready and willing as left tackle Hakeem Adeniji would have been to initiate young offensive linemen this summer, it's been business as usual for the senior and other veterans up front.
"It's definitely different," Adeniji said of the lack of youngsters heading into a season. "But on the same end, our group has been together. We know each other. There's no new guys. We've been together for a year and we're going to be together. So, I mean, from a cohesive aspect it kind of lets us completely progress."
With a veteran group playing for new offensive line coach Luke Meadows, the Jayhawks wrapped spring practices with nothing but upperclassmen taking reps with the first team offense.
Playing alongside senior Adeniji at left tackle were junior left guard Malik Clark, junior center Api Mane, junior right guard Chris Hughes and senior right tackle Clyde McCauley III.
The majority of the O-linemen who backed them up were upperclassmen, too: junior left tackle Earl Bostick Jr., senior center Andru Tovi, junior right guard Adagio Lopeti and senior right tackle Antione Frazier. The only young player in the mix was redshirt freshman Jacobi Lott at left guard, and senior Kevin Feder and sophomore Joey Gilbertson rotated in, as well.
At the moment, it looks like KU will enter the season with 18 offensive linemen, 11 of whom are upperclassmen. That had a lot to do with why Miles and his staff didn't end up adding any O-linemen in KU's 2019 signing class.
"We feel like this year's offensive line should be in pretty good shape," Miles said at his signing day press conference. "But we'll have to address that next year quickly."
That was just fine with Meadows. Asked what excited him most about the 2019 class, the O-line coach offered a quip that highlighted where his mind was.
"That we get to get to the 2020 class and recruit some linemen," Meadows said.
Indeed, KU's next class will feature far more size and girth than its last. So far Meadows and company have secured commitments from four high school O-linemen for 2020: three-star talents Garrett Jones and Jackson Stoefen and two-star prospects Tommy Brandt and Nicholas Martinez.
"There is no help coming," Meadows said of the 2019 class, and its lack of O-linemen. "What we got is what we got. It is all going to come down to the effort that they put in, and the effort that I put in for them."
Speaking this past week at Big 12 Football Media Days, Adeniji pointed to the continuity of KU's offensive line as a noticeable strength.
When preseason practices commence the first week of August, the senior left tackle expects the offensive linemen to be humming along.
"There's no 'we've got to stop and re-do this,'" Adeniji said.
Offensive linemen on KU's 2019 roster
Seniors
No. 67: Kevin Feder
No. 74: Clyde McCauley III
No. 75: Antione Frazier
No. 77: Andru Tovi
No. 78: Hakeem Adeniji
Juniors
No. 55: Reuben Lewis
No. 58: Api Mane
No. 61: Malik Clark
No. 68: Earl Bostick Jr.
No. 71: Adagio Lopeti
No. 76: Chris Hughes
Sophomores
No. 65: Jack Williams
No. 79: Joey Gilbertson
Redshirt freshmen
No. 59: Jack Murphy
No. 64: Jalan Robinson
No. 70: Nick Williams
No. 71: Jacobi Lott
Freshman
No. 73: Jack Werner