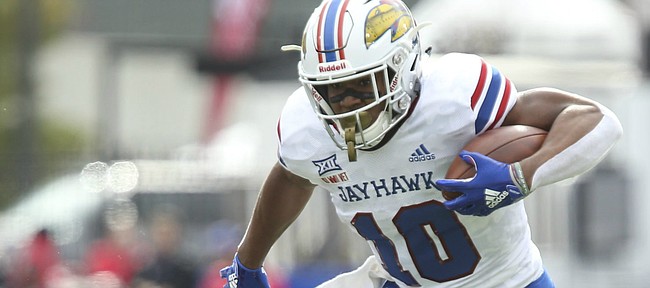 No one outside of the staff and players who spend so much of their time inside the Anderson Family Football Complex know exactly what the Kansas football team's offense will look like in the first year of the Les Miles era.
It seems a safe assumption, though, that the Jayhawks' running game will feature heavily in the coach's plans.
Senior running back Khalil Herbert deduced as much long before he ever saw even a single page out of KU's new playbook.
"When Les came in, Coach Les, he's produced a lot of good running backs and they run a lot," Herbert replied at Big 12 Football Media Days earlier this week, when asked what aspect of the program's head coaching change excited him. "Offensively, you all are going to be surprised, I think, at what we do. But I'm excited to see it."
What might surprise people?
"I can't speak on it right now," a smiling Herbert responded, sticking with the confidentiality stance his new head coach has taken regarding KU's offense since Miles was hired this past November.
It wouldn't stun many if Herbert and fellow returning experienced running backs sophomore Pooka Williams and junior Dom Williams combine to share prominent roles within the offense, based on their head coach's recent history.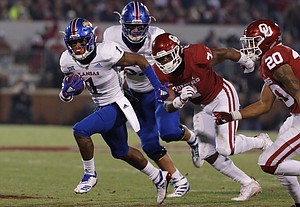 During Miles' last six full seasons combined at LSU, the Tigers ran the ball more than 60% of the time. A KU team hasn't run the ball 60% of the time during a season since 2013.
In 2018, David Beaty's fourth and final year coaching the Jayhawks, Pooka and Dom Williams and Herbert combined for 329 carries and 1,855 yards, averaging 5.6 yards per rushing attempt. In Miles' final full season at LSU, in 2015, star rusher Leonard Fournette alone racked up 1,953 yards on 300 carries.
Herbert, the only offensive skill position player KU took to the conference's summer media showcase in Arlington, Texas, proved more forthcoming when asked how productive the Jayhawks' running backs could be this coming season.
Pooka Williams will serve a one-game suspension for KU's Aug. 31 season opener versus Indiana State, following his offseason arrest and domestic battery charge that led to a diversion agreement. But from that point forward, the sophomore from Louisiana should become the focal point of KU's offense.
That doesn't necessarily mean, however, that Herbert and Dom Williams will go unutilized as a result. Herbert is confident all three running backs can produce and remain involved.
"Definitely. I think everybody will have their fair share. As a unit, I feel like we're the best (running back) unit in the nation," Herbert asserted. "So one guy goes in, one guy goes out. I don't feel like there's a dropoff. Dom especially, I feel like he's going to surprise a lot of people this year. "As a unit I feel really confident in us."
With Pooka Williams suspended from team activities this from past December through early July, Herbert and Dom Williams took on the vast majority of running back reps throughout spring practices. Herbert hopes all of that work will help both of them level up in terms of their in-game production.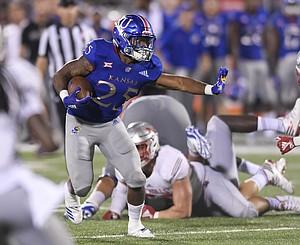 "As a whole we had to come in in better condition," Herbert recalled of the spring. "But definitely getting those reps, just having to carry the load kind of helped us out with what we're going to get involved with."
Elsewhere on the offense, Herbert also provided as much of an update as he could about other skill positions. Asked what he had seen from Thomas MacVittie, Carter Stanley or any other KU quarterback this summer, Herbert didn't single any player out. He instead spoke of the "leadership" he saw from that position group overall.
"Guys coming in, being vocal, especially when we do seven-on stuff, making sure everybody's on the same page," Herbert shared, adding QBs have made a point to lead in workout settings. "I'm excited to see what they do during fall camp."
While all three of KU's top rushers from 2018 are back this season, the receiving corps won't be enjoying similar continuity. Most notably, Kansas lost Steven Sims Jr. and Jeremiah Booker. Between the two seniors, Sims and Booker accounted for 84 receptions, 879 yards and nine touchdowns. Now the bulk of KU's receivers are far less proven.
Even so, Herbert said the rest of the offense is confident the receivers can be productive.
"I think it just goes to stepping up. Guys stepping up and making plays," Herbert said. "We've got Steph (junior Stephon Robinson) in the room coming back. We've got some new guys, Ezra (Naylor) and Andrew Parchment (both junior college transfers). And we've seen them make plays during spring and during practice, so I feel like when it comes time for game time they'll surprise a lot of people."
With 28 catches for 330 yards and a touchdown in 2018, Robinson is KU's leading returning receiver, followed by senior Daylon Charlot and junior Kwamie Lassiter II, who both made 12 catches a year ago.
2018 statistics for KU RBs
• Pooka Williams: 161 rushes, 1,125 yards, 7 TDs; 33 catches, 289 yards, 4 TDs
• Khalil Herbert: 113 rushes, 499 yards, 5 TDs; 9 catches, 39 yards
• Dom Williams: 55 rushes, 231 yards; 1 catch, 4 yards