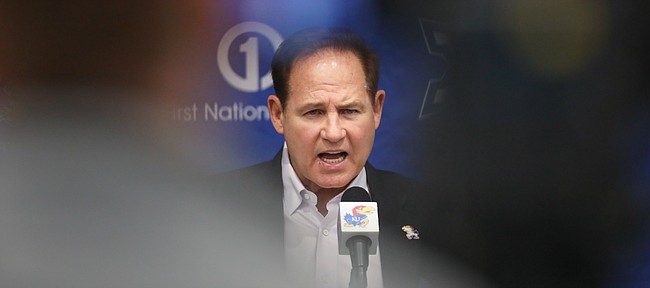 As much of an emphasis as Les Miles puts on recruiting, maybe he should have seen the wave coming.
But eight months after he became the University of Kansas head football coach, Miles admitted earlier this week that the Jayhawks might be off to an even better start on the recruiting front than he expected.
"I think we've done a good job of identifying the guys that we want, going after them, giving them an opportunity to be on our campus," Miles said. "And they've taken that opportunity."
June proved to be a massive month for Miles and his staff as they made significant inroads with the program's 2020 class. The number of recruits aligned with KU grew by 16 in June, with the Jayhawks adding their nine most recent commitments in one four-day span.
As of Thursday, with 21 high school seniors on board for 2020, KU's class ranked 25th nationally according to Rivals and second in the Big 12, at least for now, sandwiched in between league powerhouses Oklahoma at No. 1 and No. 3 Texas.
So how exactly did Miles and his assistant coaches pull that off at a place like Kansas, where Big 12 victories have come so seldomly for the past decade?
Without revealing the exact secret ingredients, Miles at Big 12 Media Days spoke of the general blueprint that led to his staff's summer recruiting success.
"We immediately put on the board those guys that we needed to see on film. And then we saw them on film, we ranked them, put them in a spot where we could take them in order," Miles explained. "And we went to recruiting and we did it from early to late."
It was during that description that Miles mentioned he spoke to a recruit earlier that morning, before his day full of interviews got going.
"It's an every day undertaking," KU's coach said. "And now if you start getting really quality kids into your program and you fit them into the right spot, you can win a lot of games."
The first two commitments of KU's most eventful June recruiting weekend came in late on a Friday evening, courtesy of three-star offensive lineman Garrett Jones and three-star defensive back JaCobee Bryant.
Miles, who gained notoriety within the college football ranks at Oklahoma State and LSU before KU hired him this past November, admitted long hours come with the territory.
"I can remember many signing days where I hit it early and hit it late," he said, "where we're going to sign tomorrow morning and you have to make sure they're going. So, yeah, I'm ready for that."
Of course, a key component in KU's recruiting victories to date has been the hours put in by Miles' full-time assistants. Receivers coach Emmett Jones, defensive line coach Kwahn Drake, running backs coach Tony Hull, offensive line coach Luke Meadows, defensive backs coach Chevis Jackson, defensive coordinator D.J. Eliot, safeties coach Clint Bowen, special teams coordinator Mike Ekeler, recruiting coordinator and tight ends coach Jeff Hecklinski and offensive coordinator Les Koenning all have helped execute Miles' plan.
"I promise you this: we have some good assistant coaches who are doing a great job," the head coach said. "We've put recruiting on fast forward. And it's a great school to recruit to. We're fortunate that people there are looking forward to hosting a great team. It's all positive."
A systematic approach Miles honed at LSU was put in place once he got to Kansas. He said he gives each assistant a geographic responsibility on the recruiting trails and that's where the process starts. If, for example, Jones, who has strong ties in the Dallas area, found a quarterback in Texas, the next step would be sending QBs coach and offensive coordinator Koenning down to recruit that player, too.
"We're going to communicate by phone and we're going to communicate by letter. And texts. We're going to communicate a bunch," Miles added of the followthrough needed to further relationships with prospects. "I think it's just how everybody does it, isn't it? It'd be the only way I know how to do it."
Miles repeatedly emphasized during various conversations this week that getting players on campus has proven to be beneficial, too. And he hammered home that academics are always a part of his recruiting pitch.
"We're graduating our guys at 81% and the team GPA is a 2.81. I think at some point in time the opportunity to come away with a credential that will give you a forum to launch a career is tremendously important," Miles said. "Frankly, it's a beautiful place. And the people there, they want a winner. I like playing for a crowd of people that will make a lot of noise and will say, 'We want to win.'"
So far, all of that has added up to 21 nonbinding verbal commitments for KU's 2020 recruiting class.
The progress Miles and his staff made this summer, it's safe to say, has him pleased.
"I think we did pretty good," Miles said of adding so many commitments in June. "What do you think? I'm serious. Pretty good. So the opportunity to continue that, we think we're going to recruit well."
The earliest any of KU's recruits can sign and make their ties to the program official is December.
2020 KU football recruiting class
- Verbal commitments
• Kershawn Fisher - 3-star LB from Louisiana
• Duece Mayberry - 3-star CB from Oklahoma
• Jackson Stoefen - 3-star OL from Iowa
• Keenan Hambrick - 3-star WR from Alabama
• Trevor Kardell - 3-star TE from Missouri
• Will Huggins - 3-star TE from Kansas
• Krishawn Brown - 3-star LB from Oklahoma
• Khari Coleman - 3-star DE from Louisiana
• Garrett Jones - 3-star OL from Michigan
• Ja'Cobee Bryant - 3-star CB from Alabama
• Malik Johnson - 3-star WR from Texas
• Caleb Taylor - 3-star DE from Missouri
• Kenean Caldwell - 3-star DT from Louisiana
• Jaylin Richardson - 3-star athlete from Kansas
• Taiwan Berryhill - 3-star linebacker from Louisiana
• DaVonshai Harden Jr. - 2-star QB from Kansas
• Luke Grimm - 2-star WR from Missouri
• Tommy Brandt - 2-star OL from Minnesota
• Juan Jarrett - 2-star LB from Ohio
• Nicholas Martinez - 2-star OL from California
• Kyler Pearson - 2-star WR from Oklahoma