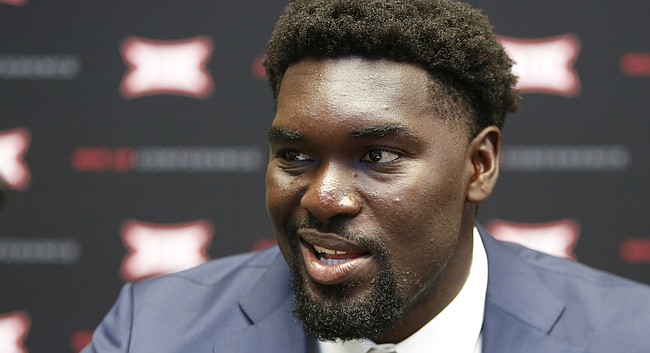 Arlington, Texas — While spending the past several weeks counting down the days to their first preseason practice, Kansas football players have done all they can to head into August in prime shape.
Just as importantly, the Jayhawks spent June and will continue spending July going through player-driven football specific workouts that they think foster chemistry and keep them knowledgeable about their playbook, ahead of their initial preseason work with new head coach Les Miles.
Depending on what comes up during a given week when summer classes are in session, senior safety Bryce Torneden said, KU's offensive skill players and defensive linebackers and backs convene for seven-on-seven reps.
"That's just extra work as a team, not just individually," Torneden pointed out. "And then other days guys obviously get the work individually, just getting better at whatever they need to do."
Strength and conditioning coach Zac Woodfin and his assistants oversee KU's mandatory offseason running and lifting workouts, but much of the players' other football-related activities fall upon them until they report for camp.
"Coach Miles has put a lot of responsibility on the players," Torneden said. "We have a lot of player-led stuff. Aside from workouts, meetings, just little things like that. Seven-on-seven is run by us, all the extra work is ran by us. So that's definitely a different aspect that we haven't been implementing. I'm definitely grateful for that, because it's definitely showing results."
It seemed at Big 12 Football Media Days the four KU seniors in attendance had been coached up in advance of their interviews not to single out individuals with praise, because they balked at doing so when asked about the summer sessions.
"I wouldn't say I'm too surprised by any guys," is all Torneden would offer. "I expect a lot out of our teammates. That's just because what we do is not easy."
Senior safety Mike Lee explained why the offseason time KU players invest in themselves has him excited.
"Just us as a team building a relationship with each other, coming closer, trusting each other. If you don't trust someone, I don't think the season will go as you planned it," Lee said. "If you trust someone that you know you can depend on and count on, then the season will go as planned."
According to Lee, he could tell freshman cornerback Kenny Logan Jr. listened to the senior's advice this summer, because Logan would take what Lee told him and go out and execute those lessons on the field.
"They always tell me to get him right, get him better, he needs to learn the plays before we get into fall camp," Lee said of KU's coaches leaning on the senior to help Logan in June and July, before they can directly coach him and other freshmen themselves. "It's stuff like that that builds like a connection and relationship with you. If someone asks you for something that means they really want it."
According to senior running back Khalil Herbert, he witnessed players "buying in" this summer and growing closer in the process, as they also tried to outwork one another.
In seven-on-seven settings in particular, Herbert said he saw offensive skill players proving they have familiarized themselves with KU's playbook.
"Running everybody in and out, getting stuff done without coaches, I think that's a big thing that helps us," Herbert added.
The largest men on KU's roster aren't a part of seven-on-seven gatherings, but as senior left tackle Hakeem Adeniji said, they "still get good work in."
After O-linemen run or lift during the summer, they get together to watch film, do individual drills and review plays and techniques.
"Just the stuff that you think is kind of basic or mundane," Adeniji explained, "but just doing it because it's important for every single player that we do."
The offensive linemen also assemble with KU's defensive linemen during KU's player-led team periods to square off against each other.
"Then we'll also do some pass rush stuff with the D-line. Nothing like crazy," Adeniji stressed, "but to kind of get to the fits without getting too physical, because obviously we don't have pads on."
KU's first preseason camp under the direction of Miles begins on Aug. 1, and the Jayhawks have their first preseason practice on Aug. 2.