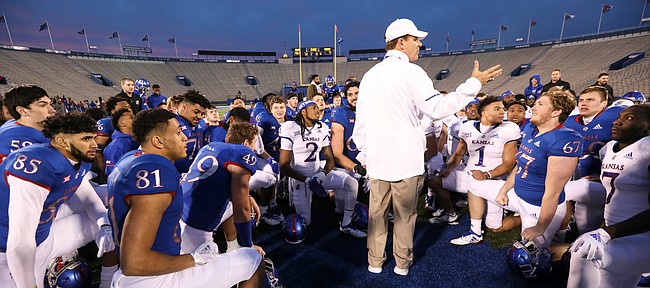 Arlington, Texas — As the Kansas football program unveiled its 2019 media guide for the first time on Monday at Big 12 Media Days, the Jayhawks' roster included many new additions.
KU football's communications staff updates the roster throughout the offseason according to when new players arrive on campus and join the program, but the latest version was the first one published since April.
As the roster stands in mid-July, the following new players have officially joined KU:
• No. 6: Valerian Agbaw Jr., freshman CB (Poweder Springs, Ga.)
• No. 14: Manny Miles, senior transfer QB (UNC)
• No. 14: Steven Parker, freshman LB (Dallas, Texas)
• No. 18: Velton Gardner, freshman RB (Dallas, Texas)
• No. 20: Jordan Preston, freshman QB (Lawrence)
• No. 26: Rob Fiorentino, freshman RB (Somerville, N.J.)
• No. 32: Dylan Downing, freshman LB (Kansas City, Kan.)
• No. 36: Lawrence Shadd, freshman WR (Atlanta)
• No. 43: Mason Fairchild, freshman TE (Andale)
• No. 45: Tyler Stottle, freshman S (Prairie Village)
• No. 47: Jerek Butcher, freshman LB (Pittsburg)
• No. 49: Gavin Potter, freshman LB (Broken Arrow, Okla.)
• No. 54: Darin Robertson, freshman LB (Gardner)
• No. 60: Luke Hosford, freshman LS (Cuyahoga Falls, Ohio)
• No. 73: Jack Werner, freshman OL (Cedar Rapids, Iowa)
• No. 83: Jacob Borcila, freshman K (Westerville, Ohio)
• No. 86: Joe O'Leary, freshman K (Olathe)
• No. 89: Jack Stallard, freshman DE (Overland Park)
• No. 95: DaJon Terry, freshman DT (Meridian, Miss.)
• No. 99: Malcolm Lee, sophomore DT (Iowa Western C.C.)
The newest version of KU's roster also featured some players who participated in spring practices:
• No. 19: Jakob Ahlschwede, freshman QB (Lincoln, Neb.)
• No. 23: Donovan Franklin, junior RB (Army)
• No. 31: Pelumi Okeowo, sophomore RB (Wichita)
• No. 34: Zack Biddison, redshirt freshman TE (Overland Park)
• No. 47: Trayvon Hands, senior WR (Ottawa)
Notably, unlike Parker, Potter and other incoming freshmen, a few members of KU's 2019 signing class do not appear on the current roster.
The following signees have yet to be added:
• Marcus Harris, freshman DL (Montgomery, Ala.)
• Jordan Medley, freshman QB (Kannapolis, N.C.)
• Jereme Robinson, freshman LB (Montgomery, Ala.)
• Caleb Sampson, junior DL (Coahoma C.C.)
All four could still theoretically arrive on campus before preseason camp and be added to the roster at that point. A KU spokesperson could not confirm that would be the case, but described the state of the roster as "fluid" and said changes are likely to be made for the camp roster.
As previously reported by the Journal-World, 2019 signee Amauri Pesek-Hickson, a running back from Blue Valley North, plans to enroll in the spring of 2020, and the status of St. Thomas Aquinas defensive back Jayden Russell's potential future with KU remains unclear.
Asked Monday at Big 12 media days about Russell's status, Miles began by saying he probably could not comment.
"We want him to end up with us, no matter how it works," Miles added.
"The only thing I can tell you about Jayden Russell is we're recruiting him," Miles went on. "That's the only thing I can say."
KU's coach pointed out that Russell, of course, already has signed with the Jayhawks. An unspecified matter that transpired since Russell signed led to the prospect being unable to join KU at this time.