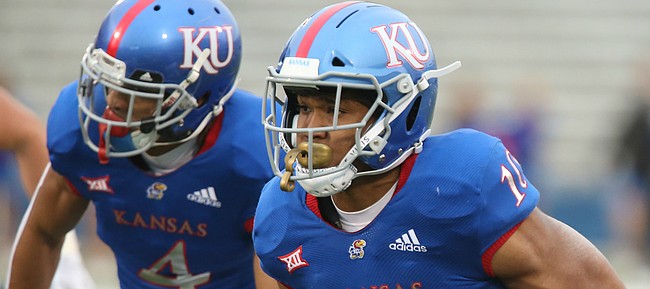 Arlington, Texas — The first thing that Khalil Herbert learned is that it wasn't anything like the movies.
The senior running back was one of four representatives — along with Hakeem Adeniji, Mike Lee and Bryce Torneden — for the Kansas football team during the Big 12 Media Days on Monday at AT&T; Stadium. While the event went smoothly for the four KU seniors, the night before was anything but that for Herbert.
Herbert and receiver Stephon Robinson Jr., who was in town to take part in the Big 12 Champions for Life event, got stuck in an elevator for approximately 90 minutes at their hotel Sunday night. It was the first time Herbert had ever been stuck in an elevator.
"After an hour and a half, I was getting a little cranky," Herbert said during Monday's breakout session. "I just wanted to get in the shower and go to sleep."
For the first 30 minutes, which was before Herbert's phone died, the two players went to social media. They did a live story on their Instagram, which mostly featured a lot of dancing to help lighten the mood.
After their phones died, however, Herbert admitted that he devoted the next hour to find a way to get out of the elevator.
"I guess that's just in movies. The roof doesn't have an escape," Herbert said. "Then I just sat down, twiddled my thumbs."
It wasn't until about 9:30 p.m. that the fire department was able to get both Herbert and Robinson safely out of the elevator. Still, it didn't completely ruin the mood of the KU seniors during their final chance at Big 12 Media Days.
Herbert was the only Jayhawk that represented the program at the 2018 Big 12 Media Days, when it was located in the Cowboys' practice facility. Herbert approved of the event being moved to Jerry World this year.
"It's crazy," Herbert said. "I didn't realize how big it was until I got here. It's nice."
Adeniji and Torneden, who are both fans of the Dallas Cowboys, also enjoyed the new site during their first and only year at the event.
"I was born here, but I've never actually been here to experience this stadium," Torneden said. "This is awesome to see."
Adeniji has been to AT&T; Stadium before, so he admitted that his favorite part was experiencing those moments with his teammates.
"Just being around them the whole weekend," Adeniji said. "Just being back home, basically. It is a nice change of scenery from offseason workouts."
All four seniors were easily the best-dressed at the event among players, as they wore full suits while they did their press tour.
Most questions revolved around Kansas head coach Les Miles, and what his presence has changed about the program this offseason. And it remains to be seen if Miles can get Kansas back on track — much like the elevator eventually did — by posting the team's first winning record since 2008.
"He knows what he is doing," Lee said. "I'm just very excited to have him as our coach."