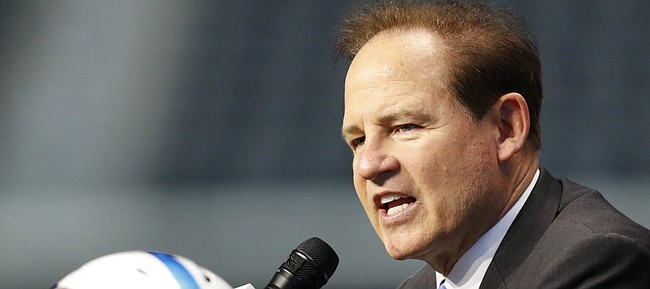 Arlington, Texas — Those expecting to prop up their feet, munch on some popcorn and enjoy The Les Miles Show at Big 12 Football Media Days didn't get much of the fun-loving, grass-eating persona that so many associate with the University of Kansas head coach.
In his first trip to the annual summer event since his final season at Oklahoma State, in 2004, Miles proved to be more reserved and less of "The Mad Hatter."
Even so, the four players who accompanied Miles to AT & T Stadium left feeling as though their head coach possesses star power unlike they've ever before seen.
As Miles showed off his national championship ring from his time at LSU at one table Monday afternoon while surrounded by reporters, photographers, microphones and TV cameras, some of his program's most experienced players admitted seeing Miles in that spotlight left them at least a little awestruck.
"I never really noticed it until we got here and saw all these cameras, you know," admitted KU senior safety Bryce Torneden, who, like so many of his teammates, has spent the past several months getting to know Miles, hired to take over the program this past November. "But it's awesome."
All of the Jayhawks, of course, were well aware of Miles' pedigree and history of success when he abandoned his life as a retiree to become their head coach. Miles led the Tigers to a national title to complete their 2007 season. Between his time at Oklahoma State and LSU, he won 142 games and lost just 55 over the course of 15-plus seasons, before LSU fired him four games into the 2016 schedule.
His new players witnessed the hype and buzz around Lawrence when KU Athletic Director Jeff Long hired Miles to reshape a program that hasn't posted a winning record in a season since 2008 and has won three or fewer games each of the past nine years.
Still, senior running back Khalil Herbert said he would leave Texas with a better appreciation for Miles' national reputation after catching a glimpse of the coach's clout.
"You never really realize it until you're out here and you see how much people flock to him, say what's up," Herbert said.
Indeed, Miles proved to be a popular figure at the massive stadium, even if reticent in many of his statements and answers. The methodical tone that first emerged in the morning as he addressed the program's offseason issues with running back Pooka Williams and KU's punishment following a domestic battery charge and arrest remained much in place in the afternoon, as Miles sat down for a Q & A with reporters that lasted approximately an hour and 16 minutes.
If people were anticipating theatrics, they may have caught Miles on the wrong day or in the wrong setting.
"I feel like you have to know him," senior left tackle Hakeem Adeniji said, "to see that personality."
According to the veteran offensive lineman, Miles, now 65, will still joke around or let down his guard.
"It's usually when he's in the team room or he's just with us one on one," Adeniji shared. "He can be a jokester."
Somewhere between straight-laced and a tad uncomfortable in the majority of his press conferences from the day he arrived at KU, his players say they see a different version of Miles most of the time.
"He's got a national championship ring," senior safety Mike Lee began. "I know he's an experienced coach. He knows what he's doing. He's got a national championship and he really wants to get another one."
While that scenario sounds more like fodder for a movie script, given KU football's history, the players who now answer to Miles appreciate the recognition that he is bringing to his late-career rebuild project.
"We had an interview, all of us, and didn't even realize he was in four movies," Herbert admitted. "Just the attention and the amount of people that pay attention to him, I think it's going to be good for the University of Kansas."
While looking over a few feet and surveying how his coach handles his popularity within the college football universe, Torneden explained why he respected one aspect of Miles' approach in particular. By attending Big 12 Media Days with one of his children, Smacker, Miles showed, Torneden said, that he cares about his family and enjoys putting them in the limelight.
"That's kind of the same for the players on this team," Torneden said. "We're kind of an extension of his family."