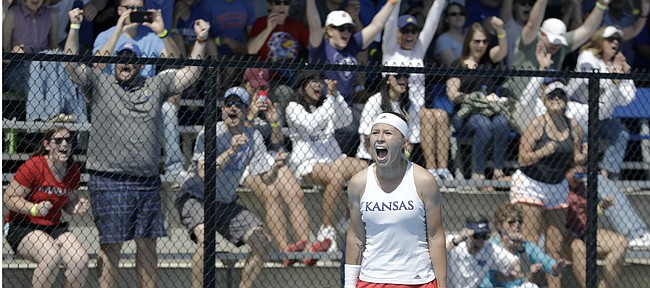 The Kansas tennis team will be represented in the finals of both the Intercollegiate Tennis Association's women's singles crimson bracket and the women's doubles bracket Monday morning at the Jayhawk Tennis Center at Rock Chalk Park.
KU sophomore Sonia Smagina will play Arkansas' Martina Zerulo in the finals at 9 a.m.
Smagina, who played a key role in KU reaching the Sweet 16 of last season's NCAA Tournament, knocked off KU teammate Malkia Ngounoue in Sunday's semifinals to reach the title match.
Zerulo, meanwhile, defeated KU freshman-to-be Vasiliki Karvouni in her semifinal match.
Ngounoue and KU sophomore Julia Deming will play for the doubles title against a doubles team from Nebraska at 11:30 a.m.
Ngounoue and Deming knocked off KU freshman-to-be Roxana Manu and Ivana Corley, of Oklahoma, in the quarterfinals and beat a doubles team from Iowa, 8-2, in the semifinals on Sunday.
KU was one of eight college programs across the country hosting ITA Summer Circuit events this weekend.