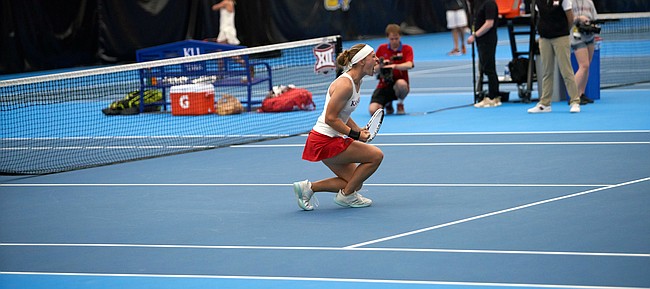 The University of Kansas is one of eight schools nationwide hosting Week 4 matches in the Oracle Intercollegiate Tennis Association Summer Circuit this weekend.
The action, which kicked off Saturday at the Jayhawk Tennis Center at Rock Chalk Park runs through Monday and is free to the public.
In all, 54 men and 56 women will be playing ITA matches in Lawrence this weekend, spread out among six different brackets — men's doubles, men's singles blue, men's singles crimson, women's doubles, women's singles blue and women's singles crimson.
Four Jayhawks from last season's historic team will be among the 56 women's players competing at the event, with incoming freshman Vasiliki Karvouni along with sophomores-to-be Julia Deming, Malkia Ngounoue and Sonia Smagina all competing in the women's singles crimson bracket, which began Saturday morning.
Karvouni, a native of Athens, Greece, who already this summer has won a singles title and finished as a runner-up in two previous ITA Summer Circuit events, also is joining forces with Smagina in the women's doubles bracket, which kicked off Saturday night.
Smagina is making her first appearance in this summer's ITA series.
Like Karvouni, Deming and Ngounoue have been active on the ITA scene this summer, teaming to win one doubles title and finishing as runners-up in another event.
The ITA Summer Circuit opened June 22 at 11 sites throughout the country, with 1,026 players registered to compete. The ITA Summer Circuit is currently made up of 56 events over six consecutive weekends beginning June 22 and continuing through the last weekend in July.
The summer circuit was created to provide college players the opportunity to compete in organized events year round.