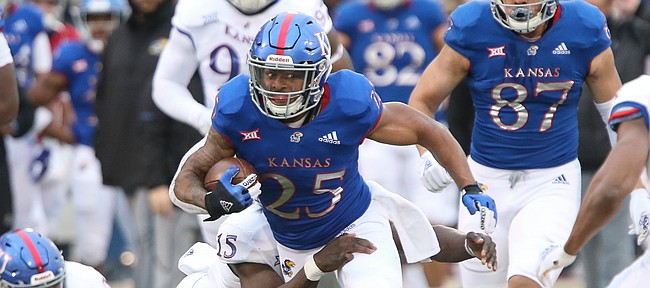 The most experienced veteran on the Kansas football roster, three-year starter Hakeem Adeniji will gladly dodge your questions about the Jayhawks' offense and the new system being implemented by head coach Les Miles, offensive coordinator Les Koenning and the rest of the staff.
"I really don't want to say a lot about our scheme, so …" senior left tackle Adeniji warned during one interview session.
So mining nuggets about KU's offense from Adeniji's fertile mind can be somewhat of a lost cause.
Gauge Adeniji's opinion about an ingredient near and dear to his heart, though, and the Garland, Texas, native with 36 career starts provides a peek behind the curtain.
Was he impressed by KU's run blocking in the spring?
"I could see how you say that," Adeniji replied, sporting a crafty grin. "I think that one thing that Coach Miles has done a good job of is he's made sure that we're going to be a physical football team."
That showed up on the field during KU's spring game, too, as eight different players had at least one carry of 10 yards or more. The offense racked up 454 rushing yards on 47 attempts (9.7 yards per carry). And that was without Pooka Williams, who was suspended from team activities throughout the spring following an offseason arrest and domestic battery charge, before being reinstated this past week.
Senior running back Khalil Herbert helped inflate those rushing numbers during KU's open scrimmage, accounting for 154 yards and a touchdown on his 13 carries. Asked what stood out to him about KU's offense as the Jayhawks learned it during the spring, Herbert pointed to the general mentality being infused into everything they did.
"Coach Miles is definitely trying to establish physicality as a big statement on the team," Herbert shared. "So you see it in the way we run the ball, the O-line coming off firing when they pull and stuff like that. You definitely see a lot of pancakes, a lot of people on their backs and some big holes, so I'm definitely excited about that."
Non-scrimmage days included, Herbert said the Jayhawks thought their coaches put them in situations that emphasized the most physically strenuous aspects of the game.
"Even when we just go uppers we're still thudding, still hitting and stuff like that," he said.
Up front, where that physicality must be initiated in order for the offense to have any sustained success, the linemen think they made important progress with the help of new O-line coach Luke Meadows.
Adeniji said left guard Malik Clark and center Api Mane in particular showed significant development from where they were at the end of the 2018 season.
Podcast episode
Kansas football beat writer Benton Smith is joined by Lawrence Journal-World sports editor Matt Tait and reporter Shane Jackson to discuss an eventful summer for Les Miles' program. Topics include: Pooka Williams' reinstatement, position strengths and weaknesses, KU's June recruiting haul and much more.
"I feel like across the board, everybody, but those two guys I have really noticed a lot of improvement and them stepping up," Adeniji said.
Although the starting lineup won't be firm until position battles shake out during preseason camp in August, when spring practices concluded Adeniji, Clark and Mane took first-team reps with right guard Chris Hughes and right tackle Clyde McCauley III. Fellow O-linemen Jacobi Lott, Andru Tovi, Adagio Lopeti, Antione Frazier, Earl Bostick Jr., Kevin Feder and Joey Gilbertson also factored into the rotation.
Senior KU quarterback Carter Stanley spoke approvingly of the blockers.
"O-line's doing really well," Stanley said. "Especially in the run, we've had some huge holes. There's been some times where I'll hand the ball off and kind of peek back and there's huge holes for the running backs. The running backs have talked to me about it, and they've liked it a lot."
Stanley said KU's O-linemen handled the new offensive install well, too, and proved they could adjust to new schemes.
Junior running back Dom Williams scored two touchdowns in KU's spring game and gained 97 yards on the ground on 12 rushes. He described KU's offensive linemen as "very physical."
"And just being able to make those big holes for the backs to be able to run," Williams said of the group's strength, "and giving the quarterback time to be able to make decisions and throw."
Those big holes Williams described led to massive running gains for skill players during KU's spring game. Even though Herbert had a 61-yard run and Dom Williams came through with one for 52 yards, both of those carries were outdone by a 70-yarder from sophomore receiver Takulve Williams.
Freshman quarterback Torry Locklin sprinted to a 38-yard rush and junior QB Thomas MacVittie picked up 26 yards on one rush.
"That's what we love to do," Adeniji said regarding the long list of chunk-yardage rushes. "You break off a big run and you go out there and you pick your running back up and celebrate."