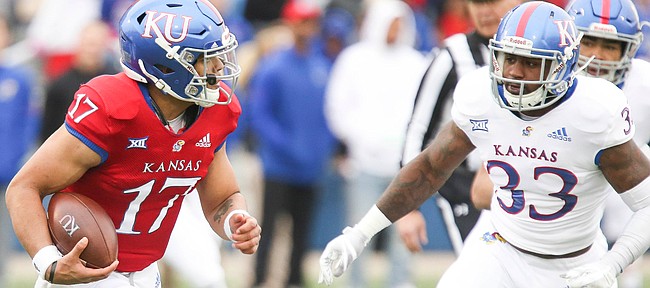 With preseason camp and more concrete answers to some of the issues facing this year's Kansas football team a little less than a month away, no position group on the roster appears quite as unpredictable as the Jayhawks' linebackers.
Even if KU's starting lineup in Week 1 ends up featuring only two linebackers, it's difficult at this point to project who they would be.
The safest bet for one of those jobs on the first Saturday of the season seems to be Drew Harvey.
Among a group of inexperienced linebackers this past spring, Harvey, a 6-foot-1, 230-pound junior whose college career began at Wyoming, found ways to set himself apart.
"Harvey, he's a game player," senior KU safety Mike Lee proclaimed.
A reserve linebacker during his first year at Kansas, after playing his first full collegiate season at Hutchinson Community College, Harvey first caught Lee's attention during practices in 2018.
"He was filing the gaps. He likes to be physical. He likes contact. He hit the hole," Lee explained, snapping his fingers for emphasis. "Fast. That's the type of linebacker we need. The type of linebackers that bring that type of energy. It pumps everybody up — especially me. If I see you make a big hit, that's just gonna make me want to get a big hit."
At the conclusion of spring football, Harvey was taking first-team reps at linebacker, along with junior Dru Prox. In KU's spring game, Harvey was credited with 4.5 total tackles, tying him for the team lead with senior safety Shaq Richmond and redshirt freshman linebacker Cody McNerney.
As one would expect from KU's tightlipped head coach, though, Les Miles wasn't as effusive in his assessment of Harvey as Lee.
"Drew Harvey's played more significant football. He's improving. Needs to continue to improve," Miles replied, when asked how much progress Harvey displayed during KU's 15 spring practices.
A high school standout at Crete Monee (Ill.), south of Chicago, Harvey received a two-star rating in the Class of 2016 from Rivals and signed with Wyoming. However, he didn't stick with the Cowboys after redshirting in 2016. The Casper Star-Tribune reported in April of 2017 that Harvey and two other Wyoming players were dismissed from the program at the same time that five others on the roster were suspended. Wyoming head coach Craig Bohl provided no statement on the dismissals and suspensions.
By the fall of 2017, Harvey had landed at Hutchinson Community College. He recorded 71 tackles, two sacks and an interception in 11 games as a redshirt freshman.
After joining KU the following summer, Harvey played sparingly in five different games this past year, when he made both of his two tackles on the season against Rutgers.
His role could be much larger for Kansas this coming fall. KU entered the spring in search of linebackers to replace graduated starters Joe Dineen and Keith Loneker Jr. And according to someone who lined up behind the linebackers throughout the spring, Harvey was one of two candidates who stood out.
"Drew Harvey, Dru Prox. Both of them are looking real good at linebacker," Lee shared. "They're filling their gaps. They're doing a really good job at being good linebackers for us. I feel like they're gonna be really good throughout the season."
Miles, of course, wasn't prepared to make a similar public prediction.
"I think the linebacking position will be augmented by two guys that we'll bring in," Miles offered, referring to Class of 2019 signees Steven Parker and Gavin Potter.
Parker, a four-star prospect from Dallas, and Potter, a three-star talent from Oklahoma, were two of the three high school linebackers KU signed this past February, along with two-star Alabama prospect Jereme Robinson.
The Jayhawks' group of linebacker additions grew in June when Iowa Western Community College transfer Hayden Hatcher accepted an offer from Miles.
In the spring, KU listed 12 linebackers on its roster: Harvey, Prox, seniors Denzel Feaster and Kyle Clonch, junior Nate Betts, sophomores Robert Topps III, Cooper Root and Jay Dineen and redshirt freshmen Kenny Bastida, McNerney, Nick Channel and John Lillig.
Bastida left the program in April and Topps entered the NCAA's transfer portal. Topps' Twitter bio indicates he has joined the football program at Towson.
Speculating exactly who will emerge as reliable linebackers for KU this year seems precarious for now. But Miles at least came across as upbeat about the position longterm.
"That may well be one of the more talented groups eventually," Miles said.
KU linebackers on 2019 spring roster
Denzel Feaster — 6-3, 225, sr.
Kenny Bastida — 6-2, 245, R-fr. (no longer with team)
Cody McNerney — 6-1, 213, R-fr.
Robert Topps III — 6-3, 201, soph. (entered transfer portal)
Cooper Root —6-3, 236, soph.
Drew Harvey — 6-1, 230, jr.
Nate Betts — 6-1, 195, jr.
Nick Channel — 6-0, 220, R-fr.
Dru Prox — 6-1, 215, jr.
Jay Dineen — 6-2, 225, soph.
John Lillig — 6-3, 230, R-fr.
Kyle Clonch — 6-1, 230, sr.