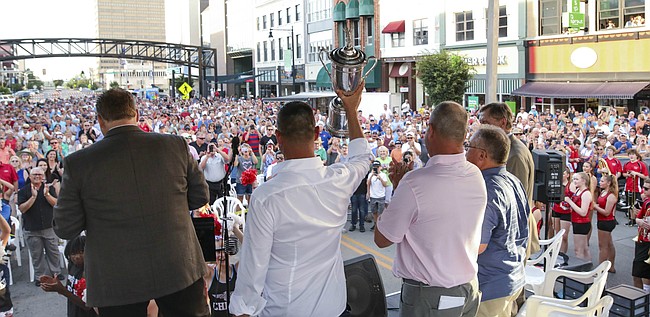 Topeka — A little more than two weeks removed from his first major golf victory at the 2019 U.S. Open, Gary Woodland found himself at Kansas basketball practice Tuesday afternoon.
The setting proved to be the perfect place for Woodland to soak up a little insider information that would help him answer one of the tougher questions he was asked later in the day at Tuesday's Gary Woodland Block Party in downtown Topeka, where city organizers closed down streets and an estimated crowd of more than 1,000 Topekans showed up to celebrate their new favorite son.
"Who wins the next big one, you or (KU basketball coach Bill) Self," a reporter asked.
"I have a lot more opportunities before he does," Woodland admitted. "So hopefully me. I was over there today to watch practice and I think they're going to be pretty good this year so I need to get on it pretty quick."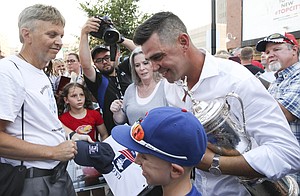 With the title of U.S. Open champ now his, time is a little tougher to come by for Woodland these days.
A whirlwind tour of New York City media demands that immediately followed the Open victory on June 16 zapped an entire day and Woodland said he has slept little and smiled a lot during the past two weeks.
Still, few things bring as much joy to his face as the vision of the U.S. Open trophy that Woodland has seen countless times since winning.
"You know, people ask me, 'Has it hit me,' and it really hasn't hit me too much besides the next morning (on June 17)," he said. "When I woke up the next morning it was on the nightstand. Seeing it there was like, 'OK, it's real. It's not a dream.'"
Asked where he keeps the trophy these days, Woodland had his answer ready.
"Close to me at all times," he said with a smile. "It's nice just to look at."
Whether it was Self or old friends, KU athletic department employees or former Kansas basketball players Woodland looked up to, or even former Jayhawk guard Kirk Hinrich, who has been credited in recent weeks with driving Woodland to golf full time and away from basketball, Woodland said the love he has received from the entire KU family has been remarkable.
"I bleed red and blue," Woodland said. "I love Kansas. Kansas has been a huge part of my life, especially from a golf standpoint. I'm good friends with a lot of people in the athletic department. Some former basketball players have reached out, which is awesome. It's special."
Of course, Woodland's phone has received calls and texts from distances far greater than the 785 area code since climbing to the top of his sport.
"Hearing from guys that I looked up to, like Chris Paul, Charles Barkley, a lot of baseball guys, guys from other sports, that's humbling," Woodland said. "Hearing from Jack Nicklaus, Greg Norman, Tiger Woods, the greats that have ever played our game, that's humbling.
"That's all good stuff. You know, you work hard, you want to be recognized, you want to be known, but to do that you have to have the results. It's nice to finally see those results and see everything that comes with it."
On Tuesday, that was a lot.
In addition to the horde of fans who ended the night chanting, "Gar-ry, Gar-ry, Gar-ry," Woodland was honored with a key to the city, learned that June 16, 2019 forever would be known as Gary Woodland Day in Topeka and sat on a stage in the heart of his hometown and listened to half a dozen people from his past beam with pride about the Woodland they've always known and the Woodland they're honoring today.
"This is a little bit overwhelming," he said. "You know, I've worked hard, I've dreamed big, but you don't plan for this."
Added Dale Burkholder, a man who has worn many hats at Shawnee Heights High School who knew Woodland way back when: "We loved him then. The whole world loves him today,"
As for the state of his golf career, which he said was "trending in the right direction," Woodland and the hundreds of Topekans in attendance Tuesday night are both hoping and believing that the 35-year-old Kansas kid from Shawnee County is just getting started.
"I have a long way to go, I have a lot to improve," Woodland said. "But I'm becoming a more complete player, where I believe I can compete more, week in and week out, especially in major championships."
Woodland capped of the celebratory evening with a short speech to his longtime fans and finished with a message for the kids of Topeka.
"Dream big," he said. "Hopefully kids can see what I've done and jump on board. The opportunity's there. … I'd love to have more Kansas kids out there with me."