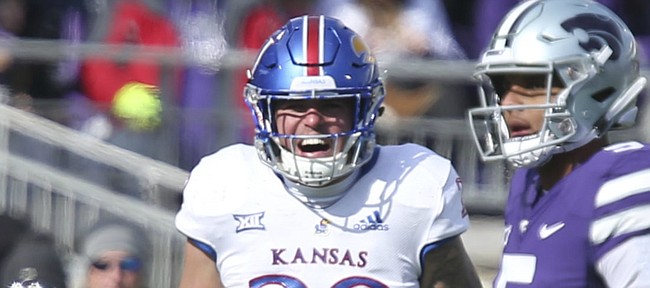 For someone who loves the city of Lawrence, where he grew up playing football and even stuck around for another five years after graduating from Free State High in order to play linebacker at the University of Kansas, Joe Dineen hopes to soon become a longterm resident of Denver, Colo.
Since joining the Broncos as an undrafted free agent in late April, the Kansas native spent much of May and some of early June working toward convincing the NFL team that showed interest in him that it should keep him around.
From the Broncos' rookie minicamp to organized team activities to mandatory minicamp, Denver's training facility in Englewood, Colo., basically became Dineen's temporary home.
While he's back in Lawrence currently, Dineen will head west again in just a couple of weeks for his first training camp as a pro. Although he knows that upcoming summer stretch will prove far more intense than what he's experienced with the Broncos so far, Dineen has been through enough with the team that he now feels comfortable, as well as confident about his future with the organization.
The self-assurance of the 6-foot-2, 235-pound rookie inside linebacker showed up at the end of one practice when he walked up to future hall of famer Peyton Manning to shake the hand of the quarterback he grew up idolizing. Someone who works for the franchise snapped a photo of the exchange and sent it to Dineen.
"That one won't ever get deleted," Dineen said of the image now saved on his phone.
By then the 23-year-old prospect already had time to overcome the first obstacle of his life in the NFL: learning the Broncos' defensive playbook.
Dineen said he and other Denver newbies tried during rookie minicamp to study and memorize the plays themselves. But it wasn't until veterans arrived at the team's training facility that Dineen and others discovered how to best retain all of that new information.
"You kind of have to divvy the defenses up into certain rules that you have, so that it's not just a bunch of random plays, so you're not trying to remember what you have to do on every single play," Dineen said of the veterans' advice. "If you can like compartmentalize that into this set of calls you drop to this landmark or this player or whatever then it's easier to remember."
According to Dineen, all of "the older guys" in the team's inside linebackers group proved "really helpful" in getting him acclimated. Even when Dineen wasn't on the field for stretches as more experienced players took the most reps, he said veterans would quiz him on the sideline after a play — "What do you think you have here?"
Those interactions helped Dineen reach a point where he thinks once the Broncos are in full pads at training camp later this month, he'll be able to further prove himself and not look like a confused rookie on the field.
Football fans back in Kansas and nationwide should get a chance to see how ready Dineen is in a month, when the Broncos face Atlanta in the Hall of Fame Game on Aug. 1. That's one of five dates on Denver's preseason schedule.
According to Dineen, he and other rookies and fringe players on the 90-man roster expect to get extended looks through much of training camp before significant cuts are made.
"That could change obviously," Dineen admitted, "and every day you have to go out and compete. But I feel like I have a good chance of making it all the way through (training camp), and at the end making it on the team."
Of course it will take much more than words and conviction for Dineen to be listed on the regular season roster — as the Denver Post recently projected he will be. The hopeful rookie said making it happen will depend on staying healthy, how he performs on special teams and how well he learns the defense.
"If I can do that," Dineen said of checking all of those boxes, "I think I'll be OK."
During his redshirt senior year at KU in 2018, Dineen led all FBS players in solo tackles per game (9.0) and was a consensus first team All-Big 12 linebacker. But NFL teams don't typically keep undrafted rookies around to start on defense.
In his time thus far with the Broncos, Dineen said he has taken reps on punt return and coverage units, as well as kickoff return and coverage units. Mastering his responsibilities in all of those situations would make Dineen all the more valuable, even if the Broncos end up thinking he could also provide some depth at inside linebacker.
"On certain special teams it's just show your athleticism, show your strength and run as fast as you can down, go and make a tackle," Dineen said of the parts of those jobs that came more easily.
One major difference for him and other rookies, he added, came on punt coverage, because in the NFL players on the punt team can't release and head downfield until the ball is kicked.
"We're learning how to slide step, kind of like tackles do on the O-line," he explained.
Learning new tricks and schemes will prove crucial for Dineen as he tries to pull off the same feat as another former KU standout, Chris Harris Jr., who went undrafted in 2011 but made the Broncos' roster.
As a lifelong KU fan who as a youth watched Harris make plays for the Jayhawks, Dineen described now being teammates with Harris in Denver as "really cool," noting the amount of respect Harris commands with the organization was easy for him to see.
Upbeat about emulating Harris' path from undrafted status to a spot on the roster, Dineen's best chances of doing so could come once preseason games begin.
"That's where you want to go and make plays for sure," he said. "Being good in practice is definitely important, but I think being good in games is a lot more important."