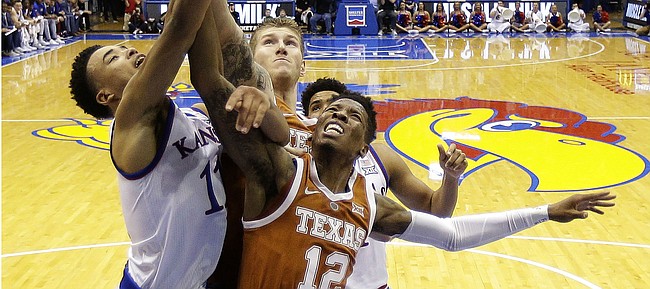 No. 11 Kansas Jayhawks (16-4 overall, 5-2 Big 12) vs. Texas Longhorns (11-9 overall, 3-4 Big 12)
Time: 6 p.m. | Location: Frank Erwin Center, Austin, Texas
TV: ESPN | Radio: IMG Jayhawk Radio Network
Not going to be home for the game? Sign up for ESPN+ and watch your Hawks on the go.
Log on to KUsports.com for our live game blog coverage and follow the KUsports.com staff on Twitter: @KUSports @mctait @bentonasmith & @SJacksonLJW
Keys for Kansas
1. Time to play big
Whether you actually are big, like Dedric Lawson or David McCormack, or just have the ability to play big if you so choose, like Quentin Grimes and Marcus Garrett, you're going to be needed in this one.
The Longhorns controlled the offensive glass in the first meeting on Jan. 14, racking up 14 offensive rebounds and outworking Kansas 38-31 in total rebounds, and more than 50 percent of those came from their three-headed monster of big men, Jericho Sims, Jaxson Hayes and Dylan Osetkowski.
Texas ranks 6th in the Big 12 in offensive rebounding, getting 28.9 percent of available opportunities thus far, but the Longhorns topped that number by nearly 10 percent in Allen Fieldhouse.

Beyond that, two of the three Texas big guys found great success in the paint, both in true post-up situations and after setting ball screens and flashing to the rim.
As we saw against Kentucky, it's a lot to ask to expect Dedric Lawson to hold it down as the only Jayhawk battling on the boards. So those wings, including Lagerald Vick and Ochai Agbaji, along with McCormack and Mitch Lightfoot, if they get real minutes, will need to help Lawson out this time around if KU wants to get out of Austin with its second true road win of the season.
Texas outscored Kansas 17-2 in second-chance points and also got much better bench production, outdoing the KU reserves 24-6 in the first meeting.
Kansas led for more than 36 minutes in Lawrence two weeks ago, but Texas' ability to control the interior and outwork the Kansas big men gave the Longhorns a chance to win the game on their final possession.
2. Calling Lagerald Vick
The Kansas senior is simply too talented and too important to be taken out of the game the way he was at Kentucky, where he finished with 10 points on 4-of-9 shooting, with 6 of them coming in the final 1:20, with the Jayhawks down by 10.
Luckily for the Jayhawks, Vick likes playing Texas.
In addition to dropping 21 points on the Longhorns the last time Kansas played at the Erwin Center (8-of-14 overall, 5 of 8 from 3-point range), Vick delivered his best game of the Big 12 season to date when UT came to town two weeks ago.
In that one, KU's lone senior and second leading scorer went for 21 points on 7-of-14 shooting, including 5 of 8 from 3-point range. He also grabbed four rebounds, dished four assists and did not record a single turnover in 32 minutes.
Kansas, and in particular Lawson, will need more of that if the Jayhawks want to pull off the sweep of the Longhorns this season.
In KU's five true road games, Lawson has shown up, averaging 19.5 points per game and doing his best to will Kansas to victory.
Vick on the other hand, is barely averaging 10 points per game during KU's 1-4 run in road venues, 5 points below his season average and 2 points below KU freshman Quentin Grimes in those same games.
3. Push the pace
Texas' tempo rating of 62.5 in Big 12 play ranks 9th in the Big 12 and positions the Jayhawks to take advantage if they can turn up the defensive intensity and get out and run.
Doing so would provide the Jayhawks with two benefits in this one.
The first is obvious. Speeding up the game could make the Texas guards less effective and could lead to even more turnovers and take them out of half-court sets, which could lead to bad offensive possessions. In the first meeting, these two combined for just 10 total turnovers, four by KU and six by Texas.
The second is less obvious and has to do with the idea that Kansas can score easy points in an up-tempo game. That will be important in this one because it's hard to imagine the Jayhawks shooting 50 percent from 3-point range again (they were 11 for 22 in the first meeting with UT) or Garrett going off for 20 points.

The Jayhawks scored just 6 fast-break points in their win over Texas earlier this season. Doubling that would go a long way toward helping KU's suddenly struggling offense.
The Jayhawks are averaging a little over 9 fast-break points per game this season, but have recorded just 22 total in their past five games and are averaging 5.7 fast-break points per game in Big 12 play.
Mega Matchup
KU sophomore Marcus Garrett vs. Texas' perimeter defense
In the first meeting between these two teams, Garrett got going early and torched the Longhorns for 20 points on 5-of-8 shooting and 3 of 4 from long range.
UT coach Shaka Smart remarked after the 2-point KU victory that the Longhorns essentially were willing to let Garrett shoot it because he entered the game shooting just 18 percent from 3-point range.
Garrett made them pay. Not only did he make a career-high three 3-pointers, but that also opened up driving lanes for him to get to the rim and the free-throw line.
It'll be interesting to see how the Longhorns defend Garrett tonight. Will they tempt fate again and give the Dallas native open jumpers? Or will they crowd him, perhaps opening the door for Garrett's teammates to have more room and more ways to operate on the offensive end of the floor.
Coming off of a rough night against Kentucky, look for Garrett to drive the ball to the rim more and try to create opportunities for others.
Jayhawk Pulse
On the heels of their fourth true road loss in five tries this season, the Jayhawks are in need of a solid performance against the Longhorns tonight.
Fighting like mad to stay with Kansas State atop the Big 12 Conference standings, the Jayhawks can ill afford to drop another conference road game at the outset of a stretch that could be as big as any in KU's quest to extend its NCAA-record streak of consecutive conference titles to 15.
Texas on the road today. Texas Tech at home on Saturday and Kansas State in Manhattan next Tuesday night. A win in Austin, Texas, could go a long way toward propelling Kansas into those next two games with as much confidence as they've had all season. A loss here, though, could turn the pressure up to a notch rarely seen in Lawrence in late January.
Past history is on the side of the Jayhawks, as KU leads the all-times series with Texas, 32-8, including a 10-6 record in games played at the Erwin Center in Austin.
In addition, Kansas has won 10 in a row over the Longhorns and boasts impressive stretches of wins in 15 of the last 16 meetings and 18 of the past 20, dating back to the 2008 Big 12 tournament title game.
KU is 28-7 against UT since the two became members of the Big 12, with a 24-6 mark in regular season conference games and a 4-1 record in Big 12 tournament games.
Despite his huge victory over Kansas in the 2011 Elite Eight while he was still at VCU, UT coach Shaka Smart, now in his fourth year at Texas, is 0-7 against the Jayhawks in burnt orange.
Kansas opened as a 1-point favorite in Las Vegas in this one, and KenPom.com, which ranks KU No. 13 and Texas No. 34 heading into this one, has Kansas winning by the narrowest of margins, 70-69 in the predictor models and 51 percent in the chances-of-winning metric.
Probable Starters
No. 11 Kansas
G – Devon Dotson, 6-2, 185, Fr.
G – Quentin Grimes, 6-5, 210, Fr.
G – Lagerald Vick, 6-5, 190, Sr.
G – Marcus Garrett, 6-5, 195, Soph.
F – Dedric Lawson, 6-9, 235, Jr.
Texas
G – Matt Coleman III, 6-2, 180, Soph.
G – Kerwin Roach, Jr., 6-4, 180, Sr.
G – Courtney Ramey, 6-3, 185, Fr.
F – Jaxson Hayes, 6-11, 220, Fr.
F – Dylan Osetkowski, 6-9, 250, Sr.