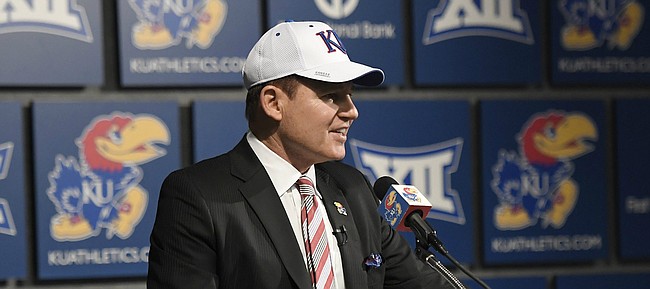 The amount of support staffers in place for the Kansas football program grew again on Monday, as head coach Les Miles announced three more hires.
Jay Niemann will work for KU as a defensive analyst, Chris Woods is taking on an analyst position and Alex Knisely becomes the director of football video operations.
Niemann spent the past three years as the defensive coordinator at Rutgers. He also worked previously as the D.C. at Northern Illinois.
A graduate of Iowa State, Niemann played linebacker for the Cyclones from 1979-82. He's the father of Kansas City Chiefs reserve linebacker Ben Niemann, who recently completed his rookie season in the NFL after going undrafted.
Woods worked in the Ivy League as Columbia's defensive coordinator for eight seasons before joining KU's support staff.
Knisely served as the assistant director of video operations for Northwestern football the past two years. She worked previously as the video coordinator at both Florida International and Eastern Michigan.