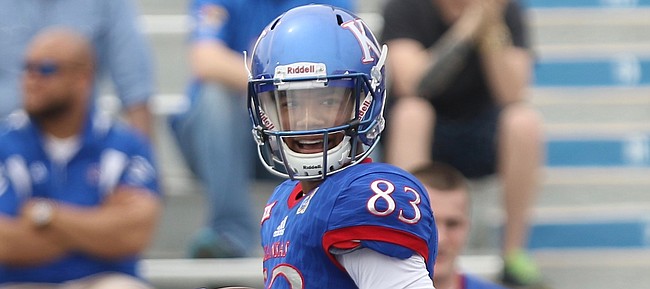 A contingent of past and present members of the Kansas football program traveled to Richmond, Va., this past weekend to celebrate the life of Kwamie Lassiter.
Once a standout defender in the Jayhawks' secondary, Lassiter died at 49 earlier this month, after suffering a heart attack.
His son, KU junior receiver Kwamie Lassiter II, flew east to attend a special service at the Hampton Roads Convention Center on Saturday afternoon, where numerous Jayhawks showed their support for the Lassiter family.
Former KU football players Gerald McBurrows, Don Davis, Kevin Polian, Charley Bowen, Chris Smith, Chris Maumalanga, Dorian Brew, John Jones, Hessley Hempstead, Marlin Blakeney, Quintin Smith, Cliff Resnick, Guy Howard, Darnell Britt and Keith Rodgers attended the service.
So did KU's safeties coach, Clint Bowen, who was a teammate of Lassiter's in the early 1990s, and KU junior receiver Kameron McQueen.
Jeff Himes, KU football's equipment manager, and Candace Dunback, senior director of the K Club, also attended.
Ericka Lassiter, the wife of the former KU and NFL defensive back, described the day as one of reflection and celebration.
"Today," she wrote for the service's program, "instead of sadness and sorrow, we will reflect on the good times we shared with Kwamie Jerome Lassiter while honoring his wishes to celebrate his life with a party.
"Kwamie always told me, 'Don't write an obituary for me. Just put if you don't know me by now, it's too late.' So there you have it! However, over the years, I often translated for him, because of his 'give it to them straight, no chaser' comments.
"My translation: Cherish the memories you shared with him. When you think of his contagious smile, with his pretty white teeth that he often reminded us of, my prayer is that you smile as well. May Kwamie's memory continue to be a source of love and strength to all who knew, loved and was inspired by him."
A graduate of Menchville High, in Newport News, Va., Lassiter played at Kansas from 1992-94.
Lassiter helped the Jayhawks reach the 1992 Aloha Bowl, where they defeated BYU. The safety led Kansas with four interceptions that season.
His team-leading three picks in 1994 helped Lassiter earn All-Big 8 second team honors.
He went on to sign with the Arizona Cardinals in 1995 as an undrafted rookie. Playing safety for Arizona, he turned his first NFL opportunity into an eight-year job with the Cardinals. He became a Pro Bowl alternate in 2001 after snagging nine interceptions.