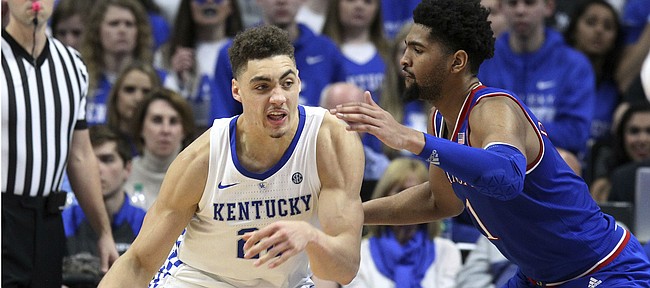 For the first time this season the top 10 doesn't include Kansas.
The Jayhawks dropped to No. 11 in the AP poll released on Monday, with the new top 25 reflecting KU's Saturday loss at Kentucky.
The Jayhawks (16-4 overall, 5-2 Big 12) fell two spots from the previous week, with No. 9 North Carolina and No. 10 Marquette moving past them.
Marquette just edged KU in points, 973-972, securing the final spot in the top 10 over the Big 12's perennial champion.
Kentucky also moved up a spot, to No. 7, after defeating KU at Rupp Arena.
The order among the top six teams in the country remained unchanged from last week: No. 1 Tennessee, No. 2 Duke, No. 3 Virginia, No. 4 Gonzaga, No. 5 Michigan and No. 6 Michigan State.
KU opened the 2018-19 campaign as preseason No. 1 in the AP poll before spending the next four weeks at No. 2. The Jayhawks then regained their No. 1 spot for two weeks in December, before dropping to No. 5 following their loss at Arizona State.
A loss at Iowa State bumped KU down to No. 7 in the first January rankings, and Kansas slid down to No. 9 this past week, after losing at West Virginia.
The move to No. 11 in the new poll marked the first time the Jayhawks didn't reside within the AP's top 10 since the second week of February, in 2018, when they were No. 13. Kansas ranked among the top 10 in the final four polls of the 2017-18 season and finished No. 4 in the country with its run to the Final Four.
KU remained the top-ranked team from the Big 12 in this week's updated top 25, which only included two other conference foes: No. 16 Texas Tech and No. 20 Iowa State. Both Kansas State and Oklahoma received votes.
The Cyclones (15-5 overall, 4-3 Big 12) moved up four spots, despite losing at KU this past week, with their Saturday win at Ole Miss helping them improve their stock.
No. 11 Kansas plays at Texas (11-9, 3-4) at 6 p.m. Tuesday on ESPN.
AP Top 25 (Jan. 28, 2019)
No. 1 - Tennessee
No. 2 - Duke
No. 3 - Virginia
No. 4 - Gonzaga
No. 5 - Michigan
No. 6 - Michigan State
No. 7 - Kentucky
No. 8 - Nevada
No. 9 - North Carolina
No. 10 - Marquette
No. 11 - Kansas
No. 12 - Virginia Tech
No. 13 - Houston
No. 14 - Villanova
No. 15 - Louisville
No. 16 - Texas Tech
No. 17 - Purdue
No. 18 - Buffalo
No. 19 - LSU
No. 20 - Iowa State
No. 21 - Maryland
No. 22 - Mississippi State
No. 23 - North Carolina State
No. 24 - Wisconsin
No. 25 - Florida State
More like this story on KUsports.com