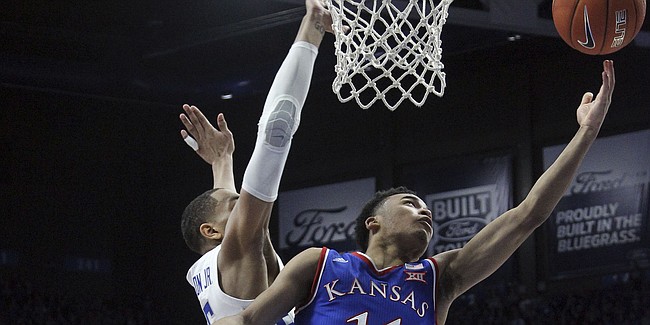 Lexington, Ky. — The Kansas men's basketball team has played nine games away from Allen Fieldhouse so far this season, and carries a 5-4 record in those games into its next road test, Tuesday at Texas.
Five of those were true road games, played in the home venue of KU's opponent, and the Jayhawks went just 1-4 in those tests, losing by an average score of 73-66.
That includes Saturday night's 8-point loss at Kentucky, inside Rupp Arena. But the Jayhawks' latest road loss did not follow the recipe of the three before it.
In those games — at Arizona State, Iowa State and West Virginia — Kansas turned it over an average of 19 times per game and had more turnovers than assists (58-31 total) in all three losses.
On Saturday against the Wildcats, the Jayhawks turned it over eight times total, while dishing nine assists on 23 field goals. That included just three turnovers in the second half, but it was the timing of those turnovers, and not their mere existence, that proved costly. Two of the three came in the final five minutes and eliminated any real hope of a KU comeback.
Four of those eight turnovers were the result of Anthony Hagans' steals and two of them, at least indirectly, because of foul trouble for KU point guard Devon Dotson, who played 33 minutes and fouled out for the first time this season.
"The two times we took him out, we didn't get the ball across half-court because Hagans stole it from somebody," KU coach Bill Self said. "They kind of smelled blood a little bit, or he did, whenever we didn't have our primary handler in the game."
Even with those instances, Self said he generally was pleased with the way the Jayhawks kept their poise throughout the game, despite the big stage, bright lights and behemoth challenge.
"They're good defensively," Self said of Kentucky. "Hagans controlled the game, defensively, from that spot. They really didn't pressure us and they really didn't have to because we didn't force them to stretch. From the field, we actually competed with them pretty good. We just didn't get to the free-throw line and we fouled so much because they controlled the glass. And that was the difference in the game."
So what is it with road games and this Kansas team? Junior forward Dedric Lawson, who did everything in his power to avoid the loss at Kentucky, has an idea. More importantly, Lawson believes the issue is correctable.
"Man, we just let them get away," said Lawson while noting that Kentucky "played hard." "You've got to give those guys credit. It's nothing that we can't fix down the road. It's not too late to make adjustments and come out victorious in league play when we go on the road."
Three of KU's next five Big 12 battles are on the road — starting with 6 p.m. Tuesday at Texas — and the Jayhawks also close the regular season by going on the road twice in early March before finishing with Baylor at home on March 9.
The combined home record of those six teams, through the weekend, was 47-12, and four of them have lost in their home gym just once this season.
On paper, Texas (8-4 at home) and Oklahoma State (6-4) represent KU's easiest remaining road games before the postseason, but the Jayhawks already have proven that no road game is easy. Even their lone road victory to date — a 73-68 win at Baylor on Jan. 12 — featured the visitors allowing a 23-point lead to dwindle all the way to 4 in the final six minutes.
Beyond that, the Jayhawks have lost to the Longhorns twice in Austin in the last decade, and have dropped four of the last five games against Oklahoma State on the Cowboys' home floor.
"Tuesday's game is huge," Self said. "We've got to be ready to go play in Austin and then, over a span of 7 days, you're playing three real teams (at Texas, vs. Texas Tech on Saturday and at Kansas State on Feb. 5). I don't even know who we play after that, but they're going to be real, too."