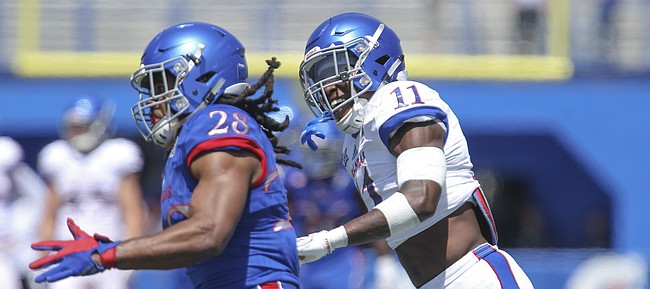 Even though spring games rarely reveal too much about a college football team's schemes or strengths, Kansas football fans eager to get their first peek at what the Jayhawks will look like under new head coach Les Miles will soon have that chance.
KU announced Wednesday the Jayhawks' 2019 spring game will be played April 13 at David Booth Kansas Memorial Stadium.
Specifics regarding kickoff time and other details for the annual fan-friendly event will be announced at a later date.
KU football players, who began their offseason strength and conditioning workouts this week, with the start of the spring semester, will have their first spring practices under Miles and his staff beginning in early March. The spring game is scheduled to be the team's 15th and final session on its calendar.
Spring football figures to be a critical stretch for both KU's players and coaches, as the Jayhawks begin learning and adjusting to new schemes and plays that have been put into place and the coaches get a better sense of what the team's on-field personnel may look like once the season gets here.
On offense, returning KU starters such as offensive linemen Hakeem Adeniji, Malik Clark and Kevin Feder and receiver Stephon Robinson, as well as newcomers, including receiver Ezra Naylor and quarterback Thomas MacVittie, will discover what new offensive coordinator Les Koenning has in store for the Jayhawks.
As of now, the exact future status of KU's 2018 star, running back Pooka Williams, is unknown. Earlier this month, Williams applied for and was granted a diversion in the domestic battery charge he is facing. Miles suspended Williams from all team-related activities shortly after the running back's Dec. 6 arrest. It remains to be seen what action Miles and his staff will take next regarding Williams.
In the meantime, the KU offense also has plenty of other experienced players returning, including running backs Khalil Herbert and Dom Williams, quarterback Carter Stanley and receiver Daylon Charlot.
On the other side of the ball, first-year KU defensive coordinator D.J. Eliot inherits a unit with returning starters such as defensive backs Mike Lee, Hasan Defense, Corione Harris and Bryce Torneden, and defensive end/linebacker Kyron Johnson. Defensive end Darrius Moragne and safety Ricky Thomas are among the more intriguing talents returning for the defense, as well.