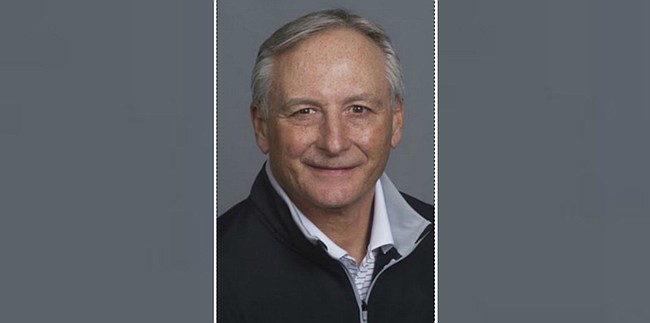 Twelve days after first-year Kansas football coach Les Miles lost his short-lived offensive coordinator to an FBS head coaching job, an OC replacement has been found.
Miles announced Tuesday he has hired Les Koenning to fill the position.
Most recently the running backs coach at Southern Miss, Koenning now takes on the roles of offensive coordinator and quarterbacks coach in the wake of Chip Lindsey leaving KU to take over the football program at Troy.
Koenning has worked as the offensive coordinator at various programs, including UAB (2016-17), Mississippi State (2009-13), Texas A&M; (2003-07) and Alabama (2001-02), during his nearly four decades in the coaching profession.
"We are so excited to add an offensive coordinator with the experience of Les Koenning," Miles stated in a release. "He has proven to be an innovative offensive mind who has great success recruiting and developing offensive skill players, particularly at the quarterback position."
The hire completes Miles' first KU staff — a task that first seemed over and done with in late December, when Miles hired Jeff Hecklinski as his tight ends coach. That changed once Lindsey returned to his home state of Alabama earlier this month to become a head coach and Miles had to hire his second offensive coordinator in two months.
Before working this past season as the running backs coach at Southern Miss, Koenning spent two years coordinating UAB's offense, following the program's two-year hiatus. UAB finished fifth in Conference USA in scoring and rushing offense in its second season back in the college football fray, in 2017. UAB's QB, A.J. Erdely, set the the school's record for rushing touchdowns in a season by a QB, with 13. Running back Spencer Brown set the freshman school record for rushing yards with 1,329. He was also named C-USA Freshman of the Year.
Koenning worked in the Big 12 as recenlty as 2014, serving as the receivers coach on Charlie Strong's staff at Texas.
His most recent stint as an OC with a Power Five program came at Mississippi State, from 2009-13, when Koenning worked for Dan Mullen, and the Bulldogs went to four consecutive bowl games for the first time in program history.
During the 2013 season, the Bulldogs set a then-single-season record for total offense, averaging 434.4 yards per game.
In 2008, Koenning worked for South Alabama, assisting in setting up the program before its innaugural 2009 season.
From 2003 through 2007, Koenning coached the QBs and coordinated the offense at Texas A&M;, working under head coach Dennis Franchione.
Before his job with the Aggies, Koenning spent the 2001-02 seasons working for Franchione at Alabama, where he was the OC and QBs coach.
His other stops along the way have included TCU (QBs, 2000), Houston (OC, 1999), Duke (OC, 1998), the Miami Dolphins (offensive assistant, 1997), Texas A&M; (receivers, 1994-96), Rice (receivers, 1990-93), Mississippi State (1986-89), Southwestern Louisiana (1985), Alabama (graduate assistant, 1984) and Texas (grad assistant, 1981-83).
A native of Houston, Koenning played at Texas and earned bachelor's and master's degrees from the university.
Koenning and his wife, Lisa, have two children, Les and Lana.
2019 KU football coaching staff
Les Miles — head coach
Les Koenning — offensive coordinator/quarterbacks
Tony Hull — running backs
Emmett Jones — wide receivers
Luke Meadows — offensive line
Jeff Hecklinski — tight ends
D.J. Eliot — defensive coordinator/outside linebackers
Kwahn Drake — defensive line
Chevis Jackson — defensive backs
Clint Bowen — safeties
Mike Ekeler — special teams coordinator/inside linebackers