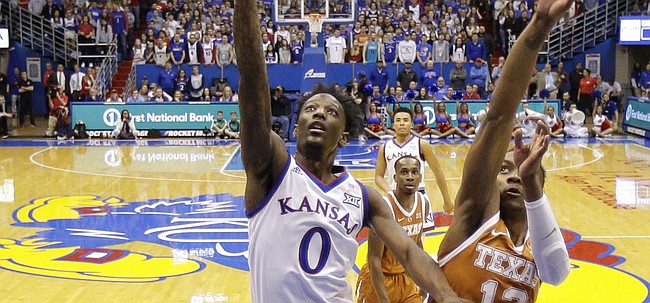 If Kansas' men's basketball players focus on the right aspects of the game, good things are bound to follow.
That's what KU basketball coach Bill Self believes, and it's an idea he's constantly preaching to his team.
Thus far this season, there has perhaps been no better example of that philosophy playing out than sophomore Marcus Garrett, who dropped a career-high 20 points in Monday night's win over Texas at Allen Fieldhouse, but did not let his offensive explosion get in the way of the rest of his on-court duties.
In fact, some might argue that Garrett's offense against the Longhorns was the result of the 6-foot-5 combo guard's continued emphasis on tough defense, extra passes and making the right play whenever possible, from the opening tip to the final horn.
This is what Garrett has become known for during his time at Kansas. And it's also what has earned him serious respect and praise from Self.
"He's terrific," Self said of Garrett, who hails from Dallas. "If Marcus could score the ball more, he'd be a first-team all-league player because everything else about his game is terrific. I was so happy for him tonight, especially playing Texas, a school that recruited him some."
Garrett's struggles with his outside shot already have been well-documented. After making just 12 of 45 3-point attempts (26.7 percent) during his freshman season — often missing because of an odd, side spin on his jump shot — Garrett spent hundreds of hours in the offseason working to retool and improve his jumper.
Roughly halfway through the 2018-19 season, give or take a few games either way, Garrett is on pace to finish with more attempts from behind the arc than he did as a freshman. But his percentage has not increased with the added attempts.
Such a reality was not lost on UT coach Shaka Smart on Monday night.
"He had a phenomenal game," Smart said of Garrett. "For him to come out shooting the ball as well as he shot, I think coming into this game, he was 18 percent from 3. And we knew we were going to have to give (Dedric) Lawson some extra attention (defensively), and we chose to do so off of (Garrett), but he made us pay. He was really aggressive attacking off the bounce; played great defense. He was a huge difference maker."
So huge, in fact, that the Longhorns adjusted their defense to compensate and confused Lawson in the process.
"They had stopped trapping at one point," Lawson recalled. "It messed me up. I caught the ball and I thought a trap was coming and they stayed home (on Garrett). It threw me off."
One of the best parts about Garrett's game from the KU perspective was that it came effortlessly. He shot when he was open, attacked the basket like the coaches asked him to and still delivered three assists, three steals and a block in 35 minutes.
Asked which aspect of his night pleased him the most, Garrett did not hesitate to point to his intangible contributions.
"Right now, just the little things, because I feel like we've got guys that can score at a high rate, with Lagerald (Vick) and Dedric," Garrett said. "So I feel like we need people that can do the little things to help them out on defense."
While that mindset is exactly what most coaches would want to hear, Garrett's emergence as a legitimate scoring threat on a consistent basis could give this Kansas offense options. And Garrett's smart enough and has enough savvy to know that, too.
"They just kept telling me to stay aggressive," Garrett said of his instructions from the bench on Monday night. "I feel like that's my game, just get downhill and try to make the right play and shoot it when I'm open. Sometimes, I don't take it just because it'd be so early in the shot clock. But coach tells me all the time to take the open shots they give me."
While it's unlikely that Garrett will transform into a 20-a-night type of scorer, Self said his ability to flash these types of efforts from time to time can be incredibly valuable to the bottom line and big picture of what the Jayhawks want to do offensively.
"Oh yeah," Self said. "It helps everybody. … That's the first time we've seen him be aggressive like that, offensively, since he's been here. Of course, it always helps when your first couple of shots go down. But he was really a good player tonight."