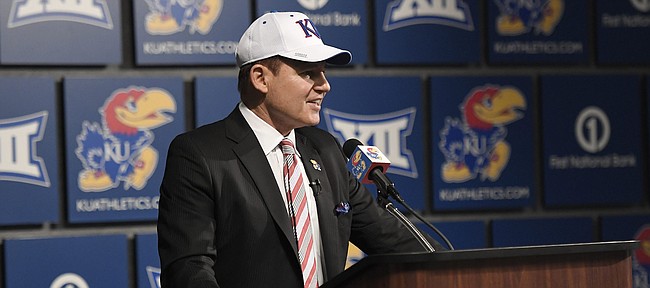 First-year Kansas coach Les Miles announced Tuesday the hiring of three new football support staff members.
Miles is bringing on Edward Jones II as director of player development, Will Redmond as director of recruiting and Mike Huff as director of operations.
Additionally, fifth-year KU staffer Tyler Olker's job description shifted slightly. Olker is now director of recruiting operations, after working for former head coach David Beaty as director of recruiting.
Jones spent the previous two years as director of player development at Houston, his alma mater. During Jones' first of three years with the football program there, he was director of high school relations and player development.
Redmond, meanwhile, worked at Middle Tennessee the past three years, as director of player personnel.
Huff will relocate to Lawrence after serving in various capacities at Georgia Tech for the past 11 years. Most recently, Huff was director of football operations for the ACC program for six years.
KU recently fired director of football operations Nolan Jones, who was hired by Beaty and worked for the program for three years.
Olker's responsibilities include overseeing and coordinating KU football's daily recruiting operations.
This past week, Miles announced the hiring of director of player personnel Dave Shumate and senior analyst for special teams Devin Ducote.
Miles remains in the process of finding an offensive coordinator, after Chip Lindsey left to become the head coach at Troy.