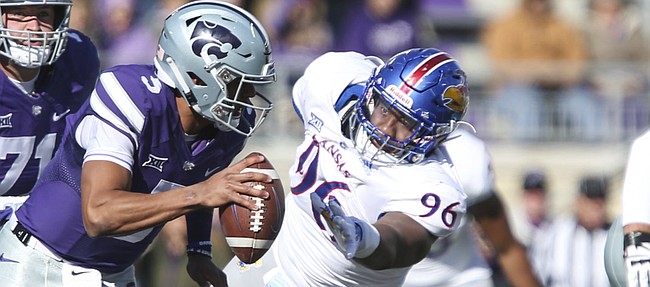 It won't be his first or his last chance to prove himself as a pro football prospect, but Daniel Wise will get to step onto one of the most coveted stages in the predraft process.
The former University of Kansas defensive lineman received an invitation to participate in this year's NFL Scouting Combine.
While the entire list of participants has yet to be published, Wise tweeted out news of his invite to the showcase, which will take place in Indianapolis in late February and early March. Defensive linemen are tentatively scheduled to work out on March 3.
"Just the beginning," Wise wrote on Twitter, with a graphic announcing the Lewisville, Texas, native's invitation to the combine accompanying his message.
More than 300 prospects are expected to be invited to the combine, ahead of this year's NFL Draft (April 25-27).
East-West Shrine Game on horizon
Wise's next chance to show off his skill set in front of NFL scouts, coaches and decision-makers comes this week, and he'll be joined by former KU teammate Joe Dineen in doing so.
Both Wise and Dineen will play for the West squad in the 94th East-West Shrine Game, on Saturday in St. Petersburg, Fla., (2 p.m., NFL Network) where Baltimore Ravens assistant Drew Wilkins will serve as their team's defensive coordinator.
Jayhawks stand out at Tropical Bowl
A couple of former KU football players impressed this past weekend at the Spiral Tropical Bowl, in Daytona Beach, Fla.
The Jayhawks' starting right guard in 2018, Dwayne Wallace, a grad transfer from Cal, was named the Overall Lineman MVP at the showcase on Sunday.
Meanwhile, Ryan Schadler, a returner and receiver for Kansas since 2015, took home the award for Overall Special Teams MVP.
Schadler, originally from Hesston, finished with 29 return yards and caught a pass for three yards while suiting up for the American team, which won, 24-16.
Wallace was one of three former KU players on the opposing National team. Brian Lipscomb finished with two solo tackles. Tight end Mavin Saunders didn't record a catch.