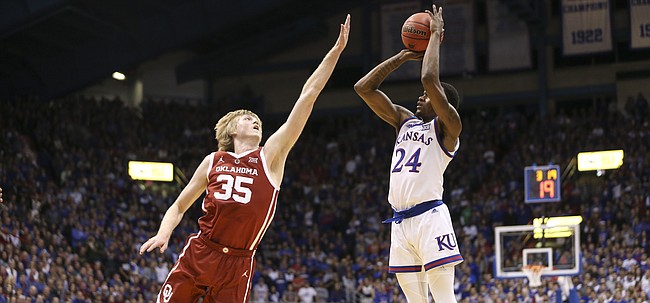 No. 7 Kansas Jayhawks (14-2 overall, 3-1 Big 12) vs. Texas Longhorns (10-6, 2-2)
Time: 8 p.m. | Location: Allen Fieldhouse
TV: ESPN | Radio: IMG Jayhawk Radio Network
Not going to be home for the game? Sign up for ESPN+ and watch your Hawks on the go.
Log on to KUsports.com for our live game blog coverage and follow the KUsports.com staff on Twitter: @KUSports @mctait @bentonasmith & @SJacksonLJW
Keys for Kansas
1. Stronger at the finish
Dating all the way back to the season opener against Michigan State and close calls against New Mexico State, Villanova, Oklahoma and a loss at Arizona State, the Jayhawks have had issues finishing games.
Part of that is because of their young backcourt, which, even 16 games into the season, is still finding new experiences at every turn. And another part of that is KU's carelessness with the basketball.
Both were on display on Saturday in Waco, Texas, where the Jayhawks saw a 23-point lead with 6:28 to play dwindle all the way down to 4 in the final 20 seconds before Kansas sealed the game.
In those close-call contests, where KU has struggled to put teams away, the Jayhawks have averaged 13.7 turnovers per game, which is just a hair higher than their season average of 13.7 giveaways per game. So it's not necessarily the number of turnovers as much as it is the timing of them that has cost KU in those games where they've struggled to put teams away.
Asked what it would take to do a better job of finishing games, KU point guard Devon Dotson, who finished with five assists and three turnovers in 33 minutes against Baylor over the weekend, had a simple solution.
"Just staying locked in," Dotson said. "Don't get too complacent. When you're up, just don't take your foot off the gas."
2. Defensive boards a must
During his postgame meeting with the media, Kansas coach Bill Self was pretty calm about the Jayhawks' poor showing in the rebounding department following Saturday's win at Baylor.
The Jayhawks were outrebounded by the Bears 49-30 overall and gave up a whopping 26 offensive rebounds while getting just four.
It wasn't KU's total number of offensive boards that was the problem, especially because the Jayhawks shot the ball so well and played so efficiently on the offensive end. So there does not figure nearly as much attention given to that area as there does in cleaning up the defensive glass.
With Udoka Azubuike out of the lineup and the Jayhawks playing four guards most of the time, controlling the defensive end certainly will be harder. But Dedric Lawson, who stands 6-foot-9, and a host of wings who stand 6-5 or taller are certainly capable of doing better than minus-22 in that area.
According to Lawson, Self addressed as much shortly after the final horn sounded on Saturday in Waco, Texas.
"He definitely did," Lawson said. "That's all about toughness. That's something he said. He said we were playing soft."
Asked who was to blame for Saturday's poor rebounding effort, Self did not single out anyone.
"I think it's on everybody," he said. "We were just soft. We got punked on the glass. We did some other things pretty well, but that was an area (where we weren't good)."
Kansas will have to be better than that against Texas and in most games going forward if it wants to make a real run at Big 12 title No. 15 in a row.
The Longhorns, although similar to Baylor in terms of style and pace of play, are not quite as strong on the glass as the Bears. Shaka Smart's club enters this one with identical 29.3 percent offensive rebounding rates, ranking them 142nd in getting on the offensive glass and 211th nationally in allowing opponents to hit the offensive glass.
KU, meanwhile, currently ranks 135th in offensive rebounding percentage (29.6) and 167th nationally in defending against offensive rebounds, allowing opponents to get 28.4 percent of their own misses.
3. Athletes vs. athletes
For years, both before Shaka Smart arrived in Austin, Texas, and during the Smart era, the Longhorns have been known as a roster full of elite athletes who can create problems all over the floor with their interchangeable parts, speed and athleticism.
"They're a pretty good team," said KU senior Lagerald Vick. "Good inside and outside presence. They've got good all-around guards. Fast team."

That's certainly the case again this season, with Kerwin Roach Jr., who has rounded into a pretty solid basketball player to boot, leading the charge for UT.
Texas point guard Matt Coleman III, now in his second year in Smart's system, is another one of those players, and Dotson and Coleman have experience facing each other dating back to their days on the AAU circuit.
Like Kansas, UT is far from the best 3-point shooting team in the country. The Longhorns are shooting just 32.4 percent from 3-point range (239th nationally), and, despite their athleticism at all five positions, the Longhorns rank dead last in the Big 12 in adjusted tempo, compared to KU's second-place standing in the same category.
Despite those facts, the Longhorns have KU's full attention because of their athleticism and strength of schedule.
"Texas can beat anybody in our league," said Self of a UT squad that owns wins over North Carolina, Purdue and K-State this season. "That's evident by winning in Manhattan by 20."
Mega Matchup
KU senior Lagerald Vick vs. Big 12 Conference foes
As good as Vick's career has been at Kansas during the past four years, there's one glaring area in which he has yet to succeed at the highest level — offensive production in Big 12 games.
Vick's 18-point showing against Baylor over the weekend was, statistically speaking, one of his better scoring games in three-plus years against Big 12 competition.
In fact, Vick enters this one yet to record a 20-point game against a Big 12 foe in his Kansas career. The senior from Memphis has topped the 20-point mark 11 times in his career — including four times this season — but none of those outings came in conference play.
What's more, Vick is zero for the season at the free-throw line in Big 12 play so far, having made it to the line just twice in four games and misfiring on both of his attempts. Vick is too good of an athlete and too good around the rim to be getting to the free-throw line that little.
For the season, the 6-5 senior is just 14-of-21 at the charity stripe, while averaging 1.3 free throw attempts per game.
If the Jayhawks hope to keep pace with Texas Tech into their two meetings with the Red Raiders in February, both numbers likely will have to change.
Jayhawk Pulse
Kansas is now 2-1 in Big 12 play without Azubuike and the Jayhawks have started to figure out the best way to play without him, just as Self predicted they would in the aftermath of the news of Azubuike's season-ending injury,

Specifically, that has meant extra emphasis on the defensive end and getting out in transition as often as possible. It also has meant playing a more efficient style on the offensive end and coming together more as a team.
Freshman guard Ochai Agbaji has played a big role in that transformation, with the once-redshirting guard playing 20-plus minutes in each of KU's past two games. His energy and activity has been somewhat contagious and given Kansas both a new look and a different identity in conference play.
"I think we just turned it up," Agbaji said. "We all came together for the TCU game and this (Baylor) game, too, to just grind it out defensively."
Kansas leads the overall series with Texas, 31-8, including a 16-1 record in Lawrence and 14-1 in Allen Fieldhouse. The Jayhawks have won nine in a row over UT and the last three meetings have been decided by 10 points or fewer.
Las Vegas lists KU as an 8.5-point favorite in the matchup, which will mark the Jayhawks' 84th all-time appearance on ESPN's Big Monday.
Since the inception of the Big 12 in 1996-97, KU is 65-18 all-time on Big Monday, including a 37-1 mark at home, 28-17 on the road and 45-12 under Self. The Jayhawks have won 10 consecutive Big Monday games and 30 in a row such showcase games at Allen Fieldhouse.
Probable Starters
No. 7 Kansas
G – Devon Dotson, 6-2, 185, Fr.
G – Quentin Grimes, 6-5, 210, Fr.
G – Lagerald Vick, 6-5, 190, Sr.
G – Marcus Garrett, 6-5, 195, Soph.
F – Dedric Lawson, 6-9, 235, Jr.
Texas
G – Matt Coleman III, 6-2, 180, Soph.
G – Kerwin Roach, Jr., 6-4, 180, Sr.
G – Elijah Mitrou-Long, 6-1, 185, Jr.
F – Jaxson Hayes, 6-11, 220, Fr.
F – Dylan Osetkowski, 6-9, 250, Sr.