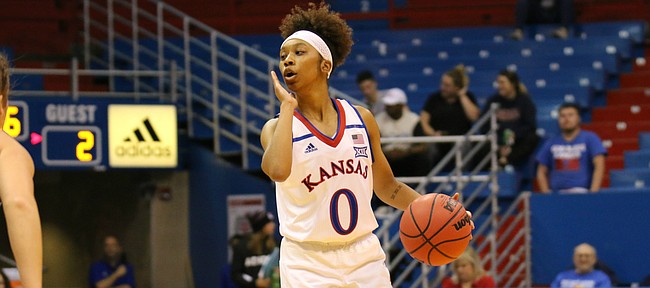 The University of Kansas women's basketball team earned its first Big 12 Conference win with a 61-54 victory over rival Kansas State on Sunday afternoon inside Bramlage Coliseum.
The win by KU (11-3, 1-2 Big 12) marked the team's first win over KSU since 2014. It snapped the program's 10-game losing streak in the rivalry.
"I think our program has been through a lot the past few years," head coach Brandon Schneider said in a team release. "We feel like we really have it going in the right direction. We have made a lot of progress. I think when the players play at a high level in a key win like this, they have every right to celebrate."
A trio of seniors led the Jayhawks in the win, with Christalah Lyons leading the charge, netting a game-high 20 points and grabbing a season-high seven rebounds. Lyons' 20 points are her second 20-point performance of the season. Austin Richardson posted her second double-double of the season with 12 points and 10 rebounds, while Kylee Kopatich added 10 points.
The Wildcats (10-6, 1-3) were led by junior Peyton Williams with 19 points and eight rebounds. Senior Kayla Goth and sophomore Rachel Ranke also posted double-figure scoring efforts with 11 and 10 points, respectively.
Kansas plays host to No. 4 Baylor at 7 p.m. Wednesday.