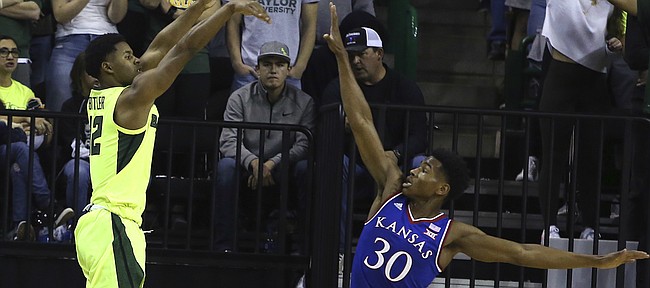 Replacing a 7-foot, three-year starter with a fresh-out-of-his redshirt 6-5 guard in the middle of a season isn't a tradeoff any college basketball coach would seek out.
Not even Kansas mastermind Bill Self.
Even so, as fortifying as size, experience and undeniable talent can be for a team's success, it's sometimes easy to overlook how less tangible factors, such as the energetic style of one role player, can impact an entire rotation.
This isn't an indictment on Udoka Azubuike, whose power moves in the paint often were unstoppable. KU's season easily could have skidded into hazardous territory with its starting center's season-ending wrist injury.
Azubuike's absence, though, set the stage for an unpredictable, yet critical, subplot to the season: the emergence of guard Ochai Agbaji.
No one could have guessed the freshman from Kansas City, Mo., would be so ready to step into KU's rotation and provide not only the type of hustle that Self loves, but also some much-needed scoring off the bench.
"I thought I did good — or all right," Agbaji said, editing his train of thought after a Kansas win in Waco, Texas, during which he contributed 10 points on 4-for-5 shooting, as well as three rebounds and a steal.
The already reliable backup never had experienced a road game — it was just the second college basketball game of his career — and here was Agbaji, logging at least double the playing time of every other reserve on KU's roster.
The Jayhawks, especially as they began refashioning themselves without Azubuike, needed some sort of chemistry-boosting alteration to help that process along.
Agbaji's near effortless transition from a player-in-waiting who doesn't even suit up for games to a reliable sixth man on a top-10 team has accelerated KU's recovery from losing Azubuike.
"He's given us hustle plays," starting point guard Devon Dotson said of his fellow freshman, who also is averaging 8.5 points and 3.5 rebounds two games into his career. "Offensive rebounds, keeping balls alive, deflections. He's been good."
What's more, the way Agbaji attacks every facet of the game seems to inspire KU's other guards to follow suit. The Jayhawks have to play with greater activity on both ends of the court to maximize a lineup now built around junior forward Dedric Lawson. And Agbaji brings a type of no-nonsense edge that makes him a perfect teammate — one who both blends in and helps make those around him better.
If Azubuike were still healthy, the Jayhawks very well may be in the exact position they are now: 14-2 overall and 3-1 in Big 12 play entering a mid-January home matchup with Texas. But would you have been shocked if the 7-footer's absence led to KU dropping a couple of games in the immediate aftermath?
The Jayhawks have avoided that type of flop, though, and Agbaji deserves as much credit as any player on the roster for the team's vitality amid some potentially tumultuous circumstances.
KU is 2-0 since losing at Iowa State without Azubuike on a Saturday and learning he wouldn't return this season on a Sunday.
"I just feel like we're locked in," Dotson said of the week that followed those blows, "and just really taking focus on each and every possession, really trying to lock in on the defensive end and just changing it up a little bit."
The Jayhawks' in-season reformation is off to a promising start because Agbaji burst onto the scene hellbent on exceeding everyone's expectations.