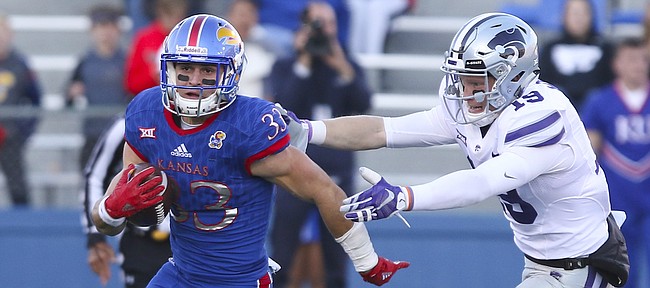 Four former University of Kansas football players are headed southeast this week to showcase their skills at the fourth annual Spiral Tropical Bowl.
A receiver and kickoff returner for the Jayhawks since 2015, when he transferred to KU from Wichita State, Ryan Schadler will be joined in Daytona Beach, Fla., for the Sunday college football showcase by three graduate transfers who finished their careers at KU in 2018: right guard Dwayne Wallace (Cal), linebacker Brian Lipscomb (Virginia Military Institute) and tight end Mavin Saunders (Florida State).
Listed at 5-foot-11 and 192 pounds, Schadler, from Hesston, played in 36 career games at KU, starting one at wide receiver in 2017. Schadler picked up All-Big 12 third team honors from Phil Steele Magazine in 2015 as a kick returner, and he's a five-time member of the Big 12 Commissioner's and Athletic Director's Honor Roll, while also earning Academic All-Big 12 second team honors in 2017 and 2018.
Lipscomb (6-2, 240) played in all 12 games for the Jayhawks in 2018, starting six at the hybrid defensive end/linebacker spot. Lipscomb finished with 27 tackles, adding 6.0 tackles for loss, 3.0 sacks, one forced fumble and one pass breakup.
Saunders (6-5, 256) played in nine games during his one season with KU, catching four passes for 32 yards. His season-long reception of 18 yards at West Virginia went for a touchdown.
Wallace (6-5, 330), KU's starting right guard in 10 games, played every week for the Jayhawks on the offensive line.
Schadler will play for the American (White) Team at the Tropical Bowl. Lipscomb, Saunders and Wallace will play for the National (Blue) Team.
The exhibition, played in front of dozens of NFL scouts, will be live-streamed by FloSports. A FloFootball subscription is required to watch the video stream. Kickoff is set for 9 a.m. (CT).
These former KU players have participated in the Tropical Bowl previously: defensive end Damani Mosby, cornerback Marnez Ogletree, safety Tevin Shaw, offensive lineman Jayson Rhodes and running back De'Andre Mann.