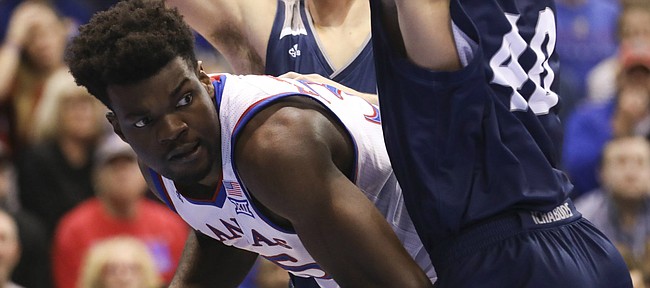 Almost a month earlier to the day, back in December, the Kansas men's basketball team learned it would have to survive a stretch of the 2018-19 season without 7-foot center Udoka Azubuike, who suffered a severe ankle sprain in a KU win over Wofford on Dec. 4.
At that time, however, the Jayhawks knew their biggest and most dominant player would be back.
Fast-forward to Jan. 6 — two days after a wrist injury in practice left Azubuike in street clothes for KU's Jan. 5 loss at Iowa State — and the Jayhawks found themselves forced to face the reality that, with this injury, there would be no return.
For the second time in his three years at Kansas, Azubuike will miss the majority of the Kansas basketball season after getting hit in practice. The crazy thing about this injury — the fourth that will force Azubuike to miss time — is that it looked so similar to the first one, which came 11 games into his freshman season on his opposite hand.
"Identical," said KU coach Bill Self on Monday, when asked how similar the 7-foot Nigerian's two wrist injuries were. "They said that they could flip the MRI (results), the left hand and right hand, and (it would) line up perfectly."
As he revealed Saturday night, after the Jayhawks' 77-60 loss at Iowa State, Self said the injury did not seem catastrophic at the time. There was no hard fall or awkward landing, merely a moment where the wrist got hit and Azubuike felt some pain.
"We taped it and he practiced," Self explained Monday. "But it was really bothering him. What's frustrating is, he wants to play. He wants to play. But the pain tolerance just wouldn't allow him to do it. It's frustrating to me when people assume he should be out there. Hell, that kid shouldn't have been out there. He wanted to try to be out there (vs. Iowa State), but there's just no way he could've gone."
And now, there's no telling when he'll go again.
To date, Azubuike has missed 33 of the 89 Kansas basketball games in which he has been eligible to play. By season's end, Azubuike's three-year participation percentage will dip well below 50 percent, as the junior center spends the next several months rehabbing and waiting for his wrist to heal.
Two years ago, when Azubuike injured his left wrist in mid-December, he was not cleared to make a full return until mid-June, six months later.
While the path to that date is crystal clear for Azubuike — particularly given the fact that he has been through it once before — it's what comes next for No. 7 Kansas, which dropped two spots in the Associated Press poll on Monday, and what Azubuike does in the future that are the questions at the forefront of everybody's minds at the moment.
Self on Monday said it was too early to examine what the future would hold for Azubuike, who flirted with leaving school early last summer and figures to have a variety of options available when the wrist heals. But it's human nature to have at least a few of those thoughts and questions run through one's mind after news like this.
"Here's the bottom line," Self said. "The kid's 19 years old. So if he enters the (NBA) draft this year, he's still one of the youngest guys in the draft, even though he's a junior. So there's nothing with his biological basketball clock (that's) ticking that he needs to hurry up and do something. There's nothing like that. Even though, in his mind, (it's), 'I've been here three years.' So that is a positive thought.
"Obviously, he would have options. He could go (pro) and hopefully put himself in (a good) position. He could return (to KU). That's obviously (something) that he could do. This would never happen, but, technically, he could get the year back (via) medical hardship. So, technically, he could have two (years left in college). But that's not going to happen, so there's really no reason to worry about that."
The only thing Self said that's worth worrying about today — beyond the ways he and his coaching staff will divvy up the minutes and tweak how they attack their remaining games — is how Azubuike was handling the devastating news.
"We should not feel bad for us," Self said. "We should just feel bad for him because, if you look at it, the kid hasn't played very many games since he's been here. … It's a crushing blow to him, without question. I think he has options. We know he's going to heal, based on his other hand. And we know the time frame which it will take to heal and those sorts of things. But, for a 19-year-old, that's not the easiest thing to digest right now."
As for how the Jayhawks will move on without their most important post player and one of the biggest size advantages in college basketball, Self said a variety of players would get an opportunity to step up and that the Jayhawks likely would play even more four-guard lineups in the weeks ahead.
Included on that list are freshman forward David McCormack, junior forward Mitch Lightfoot, freshman guard Ochai Agbaji — who had planned to redshirt, but is exploring the idea of playing instead — and sophomore guard Marcus Garrett, who started the five games Azubuike already has missed.
"It's really just the next man up," freshman point guard Devon Dotson said. "As a team, we've got to have that mindset. It could be anybody."