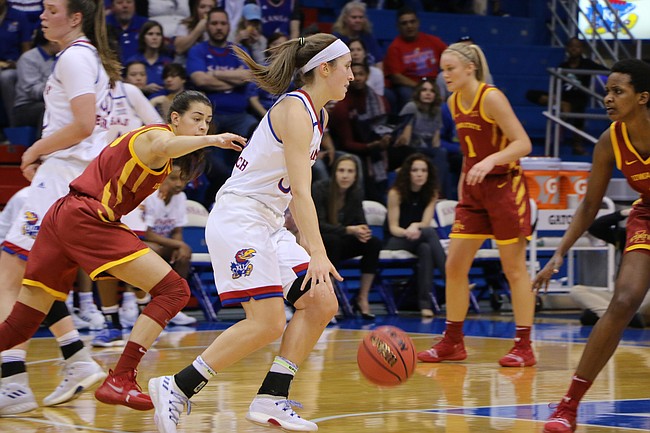 Midway through the third quarter, senior Christalah Lyons drew a hard foul on Iowa State's Bridget Carleton. With a 20 point lead, 6-foot-1 Carleton towered over Lyons who laid flat on the floor as she got up to take her free throws with a smug, serious, look on her face.
She missed one, made the next. Nobody would have thought the Jayhawks would be within five points of knocking off the No. 25 Cyclones five minutes later. The Jayhawks went on a 10-0 run, and had a chance at being within a basket on a missed shot from Kylee Kopatich.
"We're a different group of girls this year," senior Jessica Washington said. "In the past, we might have folded, we didn't today, we showed a lot of grit and a lot of toughness and that's what we've been trying to shape our culture as."
Against its toughest opponent so far this season, Kansas couldn't hold on long enough with Iowa State, falling 82-73 at home.

"Our guys aren't going to quit, and they won't let eachother. It has nothing to do with the coaches," Kansas coach Brandon Schneider said. "We've finally got the culture that's player led enough that if you don't play hard and compete, you're going to have some real issues in that locker room."
Lyons opened up the game with a quick 3-pointer on the opening possession, but the Jayhawks couldn't keep up with the Cyclones'. Tied after one quarter, Iowa State took pulled away to lead by 10 at the half.
After the third quarter, the Cyclones had extended their lead to almost 20. Carleton, a surefire All-American, made her case in Allen Fieldhouse to be known as the most dominant offensive player in the Big 12. Off the bench, Kristen Scott scored 17 on a perfect 7-of-7 shots with three 3-pointers.
Carleton finished with 33 points on 11-of-17 shots from the field, adding 10 effortless baskets from the charity stripe as she would be fouled late in the fourth quarter. On the defensive end, Carleton grabbed six rebounds without turning the ball over.
On a shorthanded Kansas team that forced Schneider to play his starting five almost the entire game, those on the floor didn't slow down. Lyons was one of four Jayhawks to net double-figures, leading in points with 24. Austin Richardson, Kopatich, and Washington also had at least 12 points. Kopatich added four 3-pointers.
"We had Bridget and they didn't," Iowa State coach Bill Fennelly said. "People were running away from it and Bridget ran to it, and wanted the ball in tough situations."
Despite the early loss, Fennelly thinks Kansas is as competitive as anyone else is in the Big 12. Last Thursday, Baylor knocked down No. 1 UConn, who had only lost five regular season games since 2012.
"What Brandon has done with this team and the way he's built the culture here, the toughness, they're really hard to defend," Fennelly said. "I would be shocked that that last ten minutes they played isn't a springboard for them. A lot of teams would say that's alright, we'll just finish it out. … He's doing a great job and they're going to have a lot of fun moments here in women's basketball here at Kansas."
Kansas will travel to Texas Tech at 7 p.m. Wednesday.
No. 25 IOWA STATE 82, KANSAS 73
Iowa State (12-2, 2-0 Big 12)
Madison Wise 2-7 1-1 6, Meredith Burkhall 1-1 0-0 2, Bridget Carleton 11-17 10-12 33, Ashley Joens 3-5 0-0 7, Alexa Middleton 2-9 6-6 10, Rae Johnson 1-1 0-0 3, Adriana Chamber 0-2 0-0 0, Ines Nezerwa 2-6 0-1 4, Kristen Scott 7-7 3-3 17. Totals 29-55 17-20 82.

Kansas (10-2, 0-1 Big 12)
Austin Richardson 5-7 1-2 14, Bailey Helgren 2-2 0-3 4, Christalah Lyons 9-20 3-4 24, Jessica Washington 5-15 1-2 12, Kylee Kopatich 5-12 0-0 14, Brianna Osorio 2-6 0-1 5, Aniya Thomas 0-0 0-0 0, Micaela Wilson 0-1 0-0 0, Brooklyn Mitchell 0-0 0-0 0, Brittany Franklin 0-2 0-0 0. Totals 28-65 5-12 73.
Iowa State 17 22 21 22 – 82
Kansas 17 12 14 30 – 73
3-point Goals: Iowa State 7-17 (Scott 3, Wise, Carleton, Joens, Johnson); Kansas 12-24 (Kopatich 4, Richardson 3, Lyons 3, Washington, Osorio). Fouled Out: Washington. Rebounds: Iowa State 5-29 35, Kansas 12-23 35. Turnovers: Iowa State 13, Kansas 14. Attendance: 2790