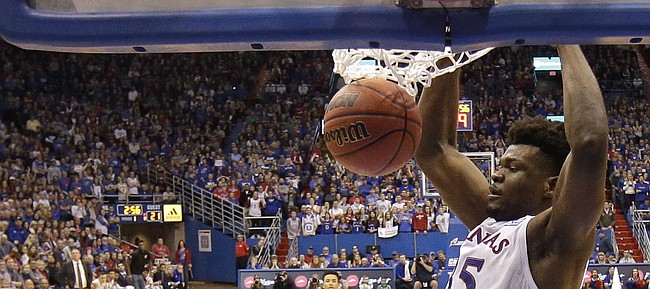 No. 5 Kansas will be without its biggest mismatch in its first Big 12 road game.
Over an hour before the start of KU's road tilt with Iowa State, head coach Bill Self announced that center Udoka Azubuike would not be available Saturday afternoon due to a wrist injury he sustained in practice.
"Udoka Azubuike is out," Self said in a statement release via the KU basketball twitter account. "He got his wrist hit yesterday at practice and it's precautionary, but he's in quite a bit of discomfort and pain today and he said he couldn't go, which is fine because the x-rays were negative and the doctor obviously think he's going to be OK."
Azubuike, who missed most of December with an ankle injury, had recently made his return to action. He played in the nonconference finale and the Big 12 opener. This season, Azubuike is averaging 13.4 points and 6.8 rebounds per game.
"We will get an MRI on him tomorrow," Self said. "Based on what we dealt with two years ago — what he dealt with — I can understand the apprehension in his mind even though we don't think they're remotely related and it's a different hand, but we're going to sit him today."