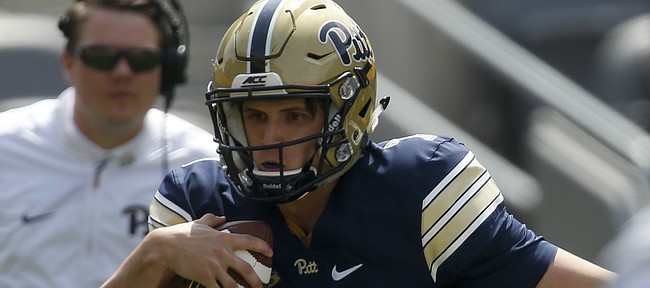 Yet another college football season came and went at the University of Kansas in 2018 without the downtrodden program putting an upper echelon Big 12 passing attack on the field.
It was Peyton Bender's second and final year with the Jayhawks, and when it ended, the senior quarterback spoke of the team's lofty preseason aspirations to put KU's 3-9 finish in context.
"Coming into the season, we had goals of making a bowl game. We wanted to go to a bowl game," Bender repeated. "Ultimately, that didn't happen."
Still, with Bender's help, KU actually assembled a much cleaner offense in the QB's senior season. After Kansas ranked 127th nationally in turnover margin (-17) in 2017 — a number hurt severely by KU quarterbacks throwing 17 combined interceptions — the Jayhawks ranked second in the same category this past season. KU had a +16 turnover margin in 2018 and its QBs combined for only four interceptions thrown on 392 pass attempts.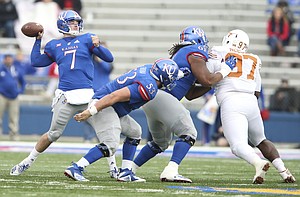 "We were leading the country for a little while," Bender noted of KU's remarkable improvement in turnover margin. "And just being competitive in games where three years ago teams had their shoulder pads off at halftime. It really shows the work that everyone's done here," he added, giving credit to former head coach David Beaty and his assistants. "There's noticeable, visible improvements from when he took over to now. It didn't end in the way we wanted it to, but there's definitely positives to take away from it."
All of that doubles as a reminder of how far KU still has to go to catch up with the rest of the Big 12 when it comes to quarterback play.
In a league where QBs routinely throw for 3,000 yards, no Kansas QB has even sniffed that air space in the nine seasons since Todd Reesing's departure. Reesing was one of six 3,000-yard passers in the conference during his final season, 2009, when he completed 313 of his 496 throws for 3,616 yards, with 22 touchdowns and 10 interceptions.
Not a single Kansas QB has even thrown for 2,000 yards in the nine loss-filled seasons since Reesing helped take the program to new heights.
In fact, statistically speaking, Bender produced the best season by a Kansas QB in the post-Reesing era.
The 6-foot-1 QB from Fort Lauderdale, Fla., went 183 of 321 through the air for 1,894 yards (the most by any Kansas QB in the past nine seasons), while passing for 13 TDs (tying Jordan Webb for most by a KU QB since 2010) and only three interceptions (the fewest by KU's leading passer in a season since 1993, when Asheiki Preston threw three on 159 attempts).
Much more, of course, goes into a QB's individual output than his abilities. The functionality of the offensive line and skills of his passing targets play critical roles, too, as do various other factors. But the reality is, KU has lagged behind most of its Big 12 brethren at the game's most visible position for years.
Now, it will be on head coach Les Miles and his offensive coordinator and QBs coach, Chip Lindsey, to do the improbable and give Kansas — as well as its long-suffering fan base — a QB that can keep pace with the rest of the Big 12, which has averaged a little more than four 3,000-yard passers a season from 2010-18.
On the day Miles was introduced as KU's head coach, he said the Jayhawks will have to be able to throw the ball downfield.
"I think the opportunity to have balance and the ability to run it when you need to run it and throw it when you need to throw it is paramount to success in that league," Miles said of the Big 12. "But what's happened is they have gone to stop the run in that league and everybody's just chucking the ball down the field. So, I think a little bit of ball security and a little bit of controlling the tempo and the game clock will certainly benefit us."
Exactly who will be the next man to try and pull off what no Jayhawk since Reesing has accomplished remains to be seen.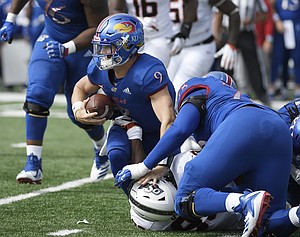 At this early point of the offseason, the frontrunners for KU's starting QB job in 2019 are Thomas MacVittie, a junior college transfer who signed with Kansas in December, and redshirt senior-to-be Carter Stanley. It's safe to assume Miles Kendrick, who played in KU's first four games of 2018 in a backup capacity, will factor into the competition, as well.
A 6-5, 225-pound redshirt sophomore at at Mesa Community College (Ariz.) this past season, MacVittie played in six games and completed 92 of his 172 passes (53.5 percent) for 1,064 yards, with 16 touchdowns and eight interceptions. Rivals now ranks the one-time Pitt signee as a three-star juco prospect, and 247 Sports ranked MacVittie as the No. 1 juco QB in the Class of 2019.
Entering his fifth year with the program, the 6-2, 198-pound Stanley started two games in 2018 before Beaty fired then-offensive coordinator Doug Meacham. In seven total appearances, Stanley completed 34 of 47 passes (72.3 percent), throwing for 304 yards, with three TDs and one interception. Stanley was sacked six times, losing a combined 33 yards — taking those plays out of the equation, his adjusted rushing totals were 15 carries for 71 yards.
In four appearances off the bench, the 5-10, 200-pound Kendrick completed 11 of 19 passes (57.9 percent) for 100 yards, with one TD and no interceptions during his first year with the Jayhawks, after transferring from College of San Mateo (Calif.). Kendrick suffered one sack for an 11-yard loss, and on 15 other carries produced 58 yards and a TD.
KU football's leading passer by season, 2010-present
2018 - Peyton Bender: 183 of 321, 1,894 yards, 13 TDs, 3 INTs (11 games)
2017 - Peyton Bender: 148 of 273, 1,609 yards, 10 TDs, 10 INTs (10 games)
2016 - Montell Cozart: 112 of 191, 1,075 yards, 7 TDs, 9 INTs (7 games)
2015 - Ryan Willis: 164 of 315, 1,719 yards, 8 TDs, 10 INTs (10 games)
2014 - Michael Cummings: 137 of 244, 1,715 yards, 9 TDs, 6 INTs (9 games)
2013 - Jake Heaps: 128 of 261, 1,414 yards, 8 TDs, 10 INTs (11 games)
2012 - Dayne Crist: 103 of 216, 1,313 yards, 4 TDs, 9 INTs (10 games)
2011 - Jordan Webb: 179 of 281, 1,884 yards, 13 TDs, 12 INTs (12 games)
2010 - Jordan Webb: 121 of 214, 1,195 yards, 7 TDs, 8 INTs (9 games)
Number of 3,000-yard passers in Big 12, 2010-present
2018 - 5
2017 - 5
2016 - 5
2015 - 5
2014 - 4
2013 - 1
2012 - 4
2011 - 5
2010 - 5