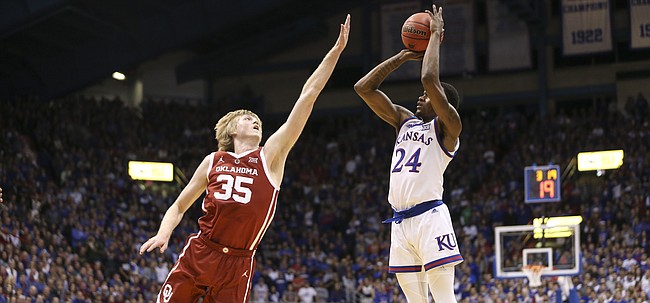 Thirteen games into the 2018-19 Kansas basketball season, the fifth-ranked Jayhawks are shooting .344 from 3-point range as a team, which puts them in the bottom half of all Division I basketball teams heading into conference play.
While that might be hard to believe for a program that has set a school record for 3-pointers made in three consecutive seasons, it's much easier to digest if you've watched these Jayhawks play.
Sure, they're 12-1 and ranked in the Top 5 in the polls. But those feats have come in spite of their 3-point shooting, not because of it like in years past.
Outside of senior guard Lagerald Vick, who opened the season on an absolute tear from behind the arc, the Jayhawks are shooting just 28.9 percent from 3-point range.
Here's a quick look at who has made what from behind the arc during KU's past five games, when Jayhawks not named Vick have hit fewer than 30 percent of their 3-point attempts during that stretch.
That mark includes a 6-of-9 effort from Charlie Moore — 9-of-17 overall in the past five games — during a 36-point win over South Dakota. If the sophomore reserve had just hit his average in those five games, instead of going bonkers against USD, KU's non-Vick number would have dipped below 25 percent from behind the arc.
In addition to Moore's mark during KU's past five games, Devon Dotson shot 5-of-11 from downtown, while Quentin Grimes was 3-of-19, K.J. Lawson 3-of-9, Dedric Lawson 2-of-10, and Marcus Garrett and Mitch Lightfoot combined to go 0-of-8.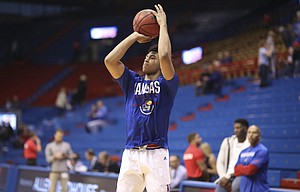 Even Vick has cooled off substantially during the past couple of weeks, knocking in just 11 of 39 from 3-point range (28.2 percent) during the Jayhawks' past seven games.
That includes a 2-of-7 performance during Wednesday's 70-63 victory over No. 23 Oklahoma at Allen Fieldhouse, which featured more than a couple shots from Vick that could be described as off-script and came outside of the flow of KU's offense.
"It is worrisome, obviously," said KU coach Bill Self of KU's showing against OU and seasonlong struggle from 3-point range. "You go 4 of 21 and some of the 3s we took were very marginal 3s at best. When we have a size advantage, it's not very smart (to shoot those)."
But the shots kept flying. KU made 2-of-12 in the first half — yet led by 15 behind the strength of its defense and points in transition — and 2-of-9 from downtown in the second half.
Self was pleased by the way the Jayhawks built that 40-25 halftime lead, saying he thought they played good ball for the final 17 minutes of the first half. But he also was irked by the way they protected that lead in the second half. And a lot of that frustration had to do with shot selection.
"You shouldn't really, in my opinion, evaluate whether you played well (by) if you made shots," said Self, repeating a mantra he's said throughout his coaching career. "You can take a bad shot and have it go in and you can take a good shot and miss it and people think you played better when a bad shot went in, which isn't the case. It's a good or bad shot when it leaves your hand, not if it goes in or not."
Beyond poor shot selection, which can be a problem for any team on any night, the issue with KU's subpar 3-point shooting thus far extends to other areas of the offense, as well. Namely, the ability of opposing defenses to pack the paint more often can make, and occasionally has made, life harder for KU big men Udoka Azubuike and Dedric Lawson.
Entering the season, that duo was projected to be borderline unstoppable inside, with Lawson's elite passing ability and talent to score from a number of spots pairing perfectly with Azubuike's dominant play at the rim.
The two have played together for decent chunks of time so far this season — although KU's best lineups often have featured just one or the other — but just how well they work together and how much of a weapon their presence on the court really is remains a work in progress.
"I think it would help a lot if we made some shots from the perimeter so you can stretch the defense a little bit," Self said recently, responding to a question about what it would take to get Azubuike and Lawson going at the same time.
The desire to do just that goes beyond their ability to put the ball in the basket. Giving them space and spreading out the defense also would allow both players to be better playmakers for others. Matchups, of course, also dictate how often the two KU big men are on the floor there together.
Although Azubuike has been back from an ankle injury for just two games, the Kansas lineup featuring him and Lawson in the front court is still the second most frequently used KU lineup — at 8.3 percent — during the past five games, per KenPom.com. What's more, Azubuike and Lawson have been featured in other KU lineups another six percent of the time during the past five games, bringing their total usage together during the past three weeks to 14.2 percent. That number only figures to go up in the coming weeks, with Azubuike now playing again.
While players like Lightfoot, Garrett and even Lawson to a degree, are not looked to for their 3-point shooting, the other KU guards are. And the one man who many seem to be looking to as an option to help eliminate KU's 3-point deficiency is Grimes, who hit just 1-of-6 from 3-point range against OU and has made a total of eight triples in 38 attempts (21 percent) since opening his career with a 6-of-10 heater against Michigan State.

"He's a great player, and I feel like when he gets going, that's when we're at our best," Dotson said of Grimes. "When he can knock down shots and is making plays, it really helps lift the team."
According to KenPom.com, Iowa State — KU's next opponent (4 p.m. Saturday at Hilton Coliseum in Ames, Iowa) — ranks 90th in 3-point defense, allowing opponents to hit just 31.6 percent of 3-point tries in 13 games so far this season.