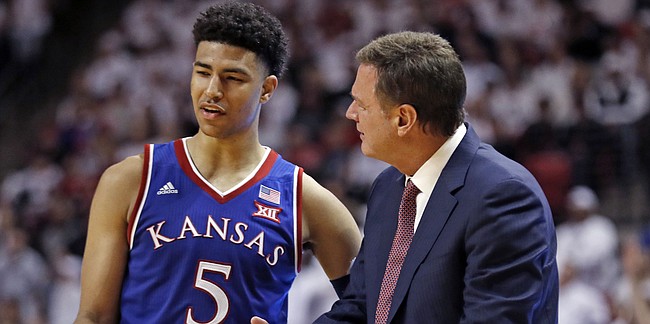 No. 12 Kansas never had a chance in its biggest game of the season.
The Jayhawks trailed for the duration of their 91-62 loss to No. 14 Texas Tech Saturday night in United Supermarkets Arena. It marked the third consecutive meeting between these two programs where there were no lead changes.
The Red Raiders (22-5, 10-4) set the tone, taking a double-digit lead within five minutes into the game. KU (20-7, 9-5) never recovered from the early punch by Texas Tech, snapping a three-game win streak.
Texas Tech has now won five games in a row, which is the longest win streak in the Big 12. The Red Raiders led by a 45-20 margin at the intermission, marking as the Jayhawks' worst halftime deficit in 18 years.
Dedric Lawson was the lone Jayhawk in double figures, scoring 14 points on 3-of-8 shooting.
Marcus Garrett and Charlie Moore each scored 9 points, while David McCormack finished with 8 points.
Jarrett Culver led Texas Tech with 26 points, though he was one of four players to score in double figures for the Red Raiders.
More than that, though, Saturday's lopsided loss had a detrimental impact on an intense Big 12 race. Kansas now falls behind both Kansas State and Texas Tech with four games remaining in league play.
KU will face K-State at 8 p.m. Monday in Allen Fieldhouse.